As large areas of the Scottish Highlands and Islands are uninhabited, remote and without signposted walking routes, it's best to take a map with you. Ordnance Survey offer a good range of maps with bonus free mobile download.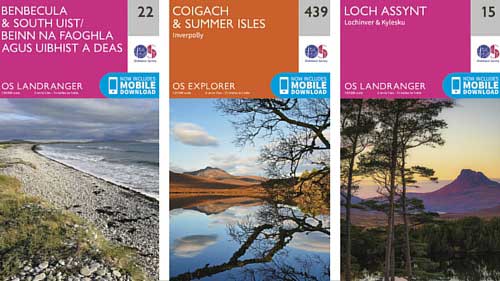 Ordnance Survey maps for walking the Highlands & Islands
Ordnance Survey maps are the best for walking the highlands and exploring those
beautiful beaches
. The
traditional paper maps
come in a choice of
standard or weatherproof
. The weatherproof one is probably a good idea as Scotland is well-known for having four seasons in one day.
Free mobile map download for your phone with Land Ranger and Explorer maps
If you
buy a paper map
, you also get a free mobile map download for your phone. When I read this, I automatically thought that this won't be very useful with the poor mobile phone coverage in many areas of the highlands and islands. OS have considered this too and the area covered in your paper map is available on your mobile phone even when there's no signal, via the OS Maps app. (OS, I'm sorry for doubting you.)
Can be used in remote areas without a mobile signal.
App available for iOS (Apple) and Android smartphone or tablet (although OS say you need a fairly recent iOS (Apple) or Android gadget).
The app is free.
No issues with storage as you can add or remove maps from your smartphone as often as you like, without losing them, which will help keep your storage free for other things. When you buy a map and access the unique code, we'll keep that download available for you in your OS Maps account.
OS Maps app can also use your GPS system to track your route so you can see where you went, the distance and the height.
Find out more about the
mobile map download.
Buy Ordnance Survey maps
Again many local book shops and tourist information centres sell maps but you can also buy online from:
Custom-made OS maps where you choose the exact location
How often have you gone to buy a map for your next adventure and find that annoyingly the location you're going to is covered by two maps? Well, now you can buy a custom made map where you get to choose the location. As well as avoiding the issue of having to take two maps with you, I think this is a great gift idea for commemorating your favourite place, where you went on your honeymoon, where you grew up or any other special place. I bought some as Christmas presents last year. It only takes a few minutes to create a bespoke OS Explorer Map or OS Landranger Map in and you get to write the titles and choose your own images for the front cover which you can design using your own photo. They cost £16.99 and are only printed on one-side so they are more expensive but that's reasonable for a unique item.  Order online on the Ordnance Survey website.
Walking the Highlands? You may also be interested in…