Planning a holiday to the Isle of Skye? Need ideas of things to do with kids? Katie from Taigh Ailean Hotel on the Skye, has some great advice. Over to Katie..

So, you want to go on holiday with your children. You're quite outdoorsy and so are the mini yous. Let's consider your options….
I'll start by saying that our internet connection isn't great all of the time, there isn't a Primark or a Forever 21 for at least 2 1/2 hours and the chances are if they meet a cute boy or girl they'll both be wearing waterproofs and carrying a slight whiff of eau de Smidge.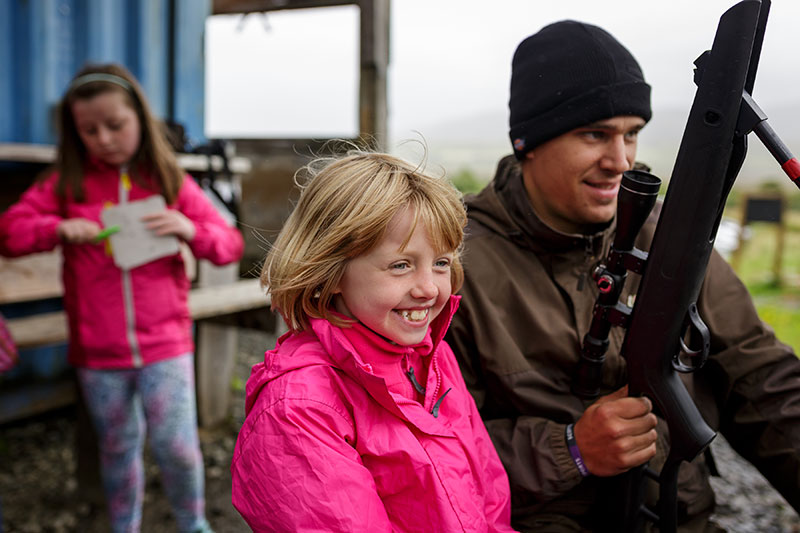 Where to stay and eat?
I'm going to say choose us, of course. Taigh Ailean is cheerfully family friendly with rooms that sleep two adults and up to 3 children depending on their measurements.  Some hostels and bed and breakfasts don't accept children (some up to 16 years) so please make sure you check before you book.
Ashleigh, our bar manager, is amazing with young diners and we are fully equipped with high chairs, colour pencils and games. Many of the *high end* restaurants on Skye might be a bit much for little mouths, tummies and attention spans (again check before booking as some have a minimum age) but you can taste all of the Skye larder out and about the island.
We don't do *kids' meals – nuggets and the like* but we do offer mini-me versions of lots of our dishes and if you can persuade the little darlings to choose the same thing you can have plenty of plates and napkins to share.
I love watching a small try haggis for the first time (whatever the ensuing face) or tuck into a starter portion of Skye mussels the size of her head. We believe children should have the opportunity to try the same fabulous food as you do – there's always Johnny's amazing Highland beefburger or a wee portion of fish and chips to fall back on.
There are lots of family-friendly places to eat, and suppliers to get your own good stuff if you're self-catering or to take home with you at the end of your holiday. We're always happy to offer suggestions and directions.
The Great Outdoors – things to do with kids
Let's look at what the Great Outdoors has to offer. Skye has over 450 miles of coastline and a huge variety of beaches. From rocky, scrambling adventures at Talisker, to stretches of white sand perfect for racing the dog at the Coral beach, via Staffin  and the dinosaur footprints where the seeds of another Mary Anning might be sown….
There are lots of activities you can book on Skye which are perfect for families with children of all ages. I'm just going to mention a couple of things to do with kids, run by some of my favourite people…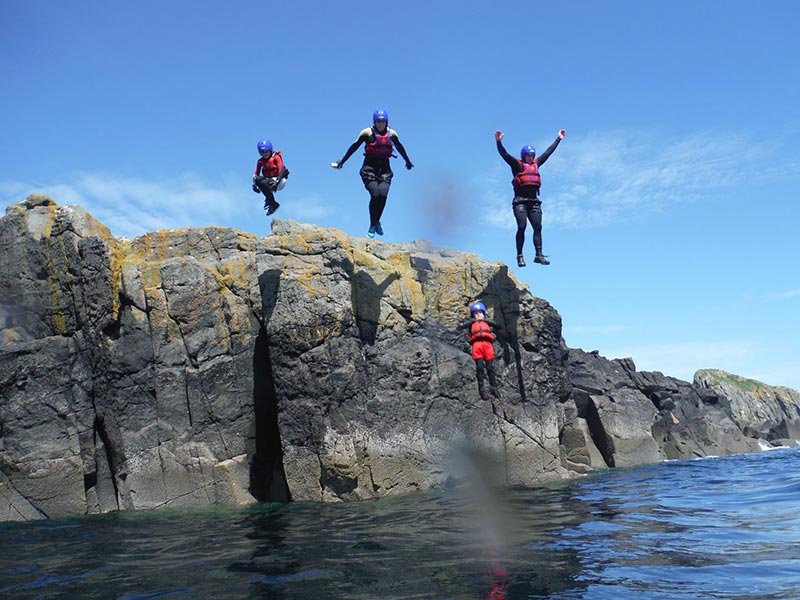 Skye Adventure can take you out for a fabulous family day out, offering a range of activities guaranteed to make memories that will shape their futures… in a good way. Trust me. John, Sarah and Matt supported me to be brave enough to jump off cliffs into the sea on New Years' Day. Albeit looking like a shinty playing manatee, but I did it. And I am not a fearless soul). The children have to be your own and the chaps recommend their activities for age 10+. You work with them to pick the best itinerary for your family- they provide the equipment, you bring the spirit of derring-do. You can find them at www.skyeadventure.co.uk
For another unforgettable day (or two – some of our guests have rebooked the minute they got back to the hotel) head down to Portree and visit Matt and his crew (including Blaze and Laoch, not only family- friendly but dog friendly too – double win) at A.C.E Target Sports.  You most certainly need to try archery and you probably need to throw a few axes or shoot a clay pigeon or two. Some activities are open to children 5 years+ and some have a minimum age of 10 or 12.  It's exciting, different and, quite importantly, not weather dependent. You can check it all out at www.ace-skye.com
Obviously there's the obvious places to go (obvs). They're very pretty and will tick your boxes. You don't need me to tell you where they are….but I'm here for you for a bit of off piste, some hidden gems and a touch of away-from-the beaten-trackness for your little Wonder Women and Daredevils.
Find out more about Katie's hotel on the Taigh Ailean website.
You may also be interested in…