About me
I've been a perpetual visitor to Skye for years. Gargunnock is just where the Scottish mountains start so you can imagine how beautiful the drive to Skye is. I'm a management consultant and work in London but my heart is in the Highlands! I'm usually home on the weekends and travel to Skye as often as I can. I recently became the proud owner of a beautiful trip boat, Spindrift IV which operates from Portree on Skye. My good friend Peter Urquhart operates the trips in tandem with his own well known boat, Brigadoon.
Interests
Sailing, fishing and shooting. Scotland's perfect for those!
How long have you lived in Gargunnock?
I live on a charming old estate near Gargunnock. I'm in the stables block behind the big house. The walls are three feet thick, it was built in 1790. I've been here for five years and moved there from Bo'ness in West Lothian. Reason for the move – stunning views, friendly people.
Favourite beach
I really like the beach at Talisker bay – it feels wild and have fond memories of Achnahaird beach by Achiltibuie where we had family holidays. Also Kilmory bay where Loch Sween meets the Atlantic near the point of Knapp. It's not obvious but you'll find a track there if you look. (Grid NR 69893 74597)
Best walk
The climb up Ben An in the Trossachs. – Stunning views of Loch Katrine. Anything on the Trotternish ridge on Skye – It's the most unearthly combination of spires and cliffs. Love the top of Stac Polly for the same reason – and the views North over Loch Scionascaig to Suilven.
Most special time of year where you live
The autumn – for the colours at home. May/June on the Uists – for the endless days and machair flora and fauna.
The one thing that you recommend every tourist should do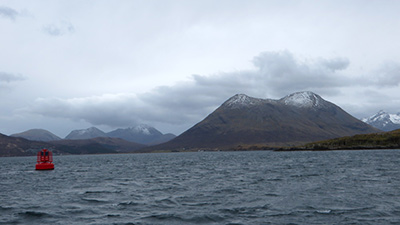 On Skye pick one from this list:
Take a trip to Glenbrittle and Elgol to see the Cuillins
Boat trips from Portree for the wildlife and Elgol for the Cuillin scenery
Drive North of Portree for the Trotternish ridge views
Dinner in the Cuillin Hills Hotel or the Flodigarry hotel – both with stunning views
Take a boat trip to Raasay to see Calum's Road or to Rona to see a beautiful remote island
Your best wildlife encounter
Well there's a few. The funniest was a Corncrake dropping in for a cup of tea and a dram. We were sitting on an island on a loch called Upper Kildonan on South Uist with three friends having tea and a wee dram. I was fiddling with a fly reel and the ratchet sounds like a corncrake. There was a flutter of wings and a corncrake landed right in the middle of us. Often heard but seldom seen it was a real treat.
Favourite road or drive
The road from Portree North to the Storr lochs has many fond memories and wonderful scenery.
Most loved view
The view from the Cuillin Hills hotel front lawn overlooking Portree Bay and in the distance the Black Cuillin mountains. It's ever changing and very picturesque.
Favourite place to eat and drink
The Applecross Inn takes some beating. But best of all is the Fish Café on the pier at Tobermory. Go for any seafood with a Thai twist.
Holiday Scottish Highlands & Islands says..
Thanks, Nigel, for sharing your suggestions and the fantastic dolphin video. It really makes me want to go on a boat trip. It's been a while since I've seen any dolphins. Achnahaird beach is one of my favourites and is featured in our article
Scottish beaches: Highlands and Islands.
Interesting to see that Cafe Fish in Tobermory on the Isle of Mull is recommended again in our
What to see in Scotland: Local Tips series
.
Find out more about Spindrift Boat Trips
Plan a trip to the Isle of Skye
Want more local tips?
Katie from the Taigh Ailean Hotel gives you more top tips on
things to do on Skye
.