Susie Murphy is a Scottish artist who moved away from Scotland but was eventually drawn back to her homeland. Her artwork is inspired by the Scottish Highlands and Islands she loves so much and frequently makes trips to the Isle of Skye and the west coast of Scotland.
About me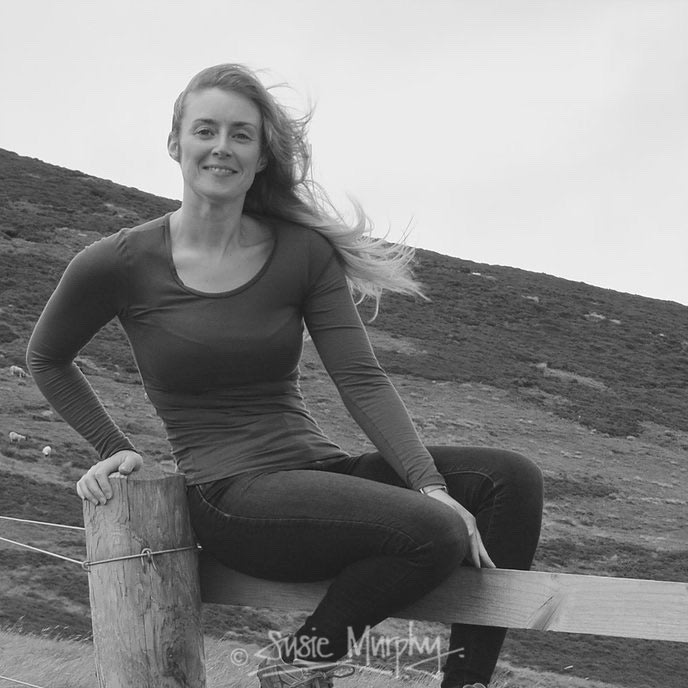 I am currently based in Edinburgh but absolutely love the Scottish Highlands and regularly visit Skye and the west coast of Scotland for inspiration and source material.
I am a professional artist inspired by the magic of Scotland and the world at large. My paintings illustrate iconic scenery from around Scotland and include a unique geometric twist. Through the medium of acrylic on canvas, I aim to capture the rich sensory experience a place can invoke; layering the emotions, memories and feelings which come from being present in the brilliance of nature.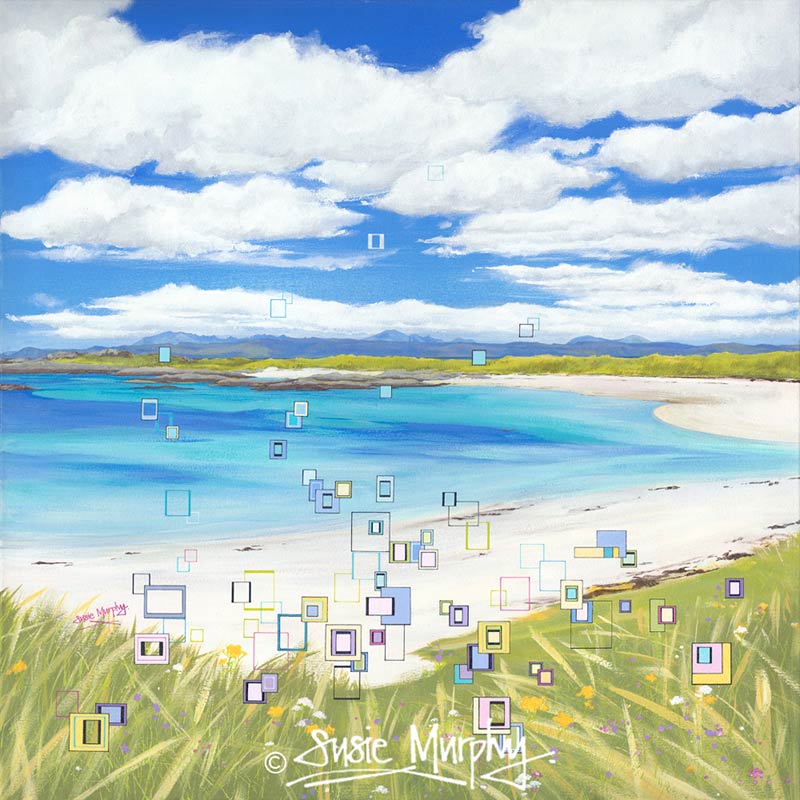 Where do you live?
I have lived in Edinburgh for over 5 years now and grew up in the Scottish Borders. Other places that I have lived include Somerset, Devon, Dundee and Inverness. The south west of England is beautiful, but my heart ached so much for Scotland's unique beauty and the tranquility of its landscape that I had to come home!
Favourite beach
There are so many choose from! The beaches of Harris and Lewis are definitely worth a mention, as is Sanna on the Ardnamurchan peninsula. But, my favourite beach has to be Camusdarach, a stunning sandy beach located between Arisaig and Mallaig, just off the Road to the Isles. Sunsets at Camusdarach are out of this world. Watching the sun go down as it sets the sky on fire and beautifully silhouettes the islands of Eigg, Rum and Skye, is awe inspiring. I have many happy childhood memories from this area and the colours of sea here are not only wonderfully intense but sparkle like the most exquisite of jewels! Camusdarach and the surrounding coastline has inspired many of my paintings and consistently exudes beauty, even in the harshest of weathers.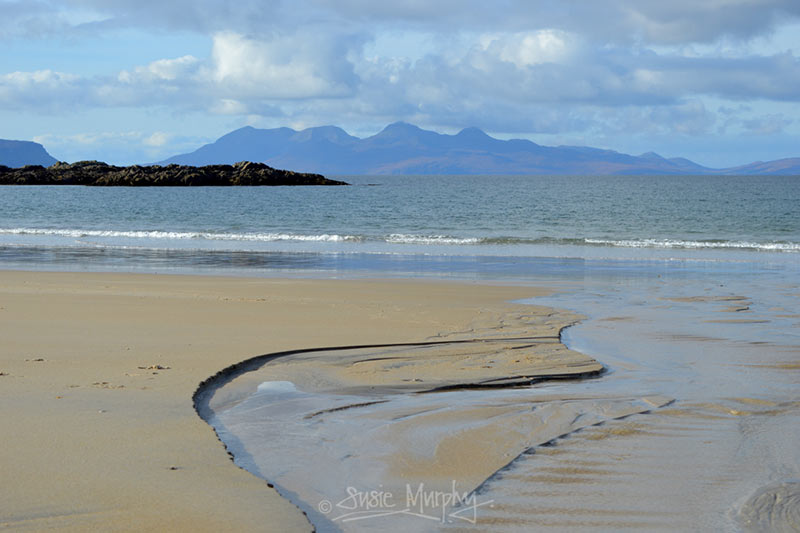 Best walk
Glen Nevis has some fantastic walks all the way up the glen and beyond. The best walk, apart from the one to the pub at the foot of Ben Nevis, is to Steall Falls. Cascading 105 meters down the rock face at the foot of munro, An Gearanach, Steall Falls are the third highest in Scotland. Starting at the far end of Ben Nevis car park (grid ref. NN168691), this walk is a low level hike along a rocky path up the beautifully dramatic Nevis Gorge. Before reaching the falls you are treated to stunning scenery, towering mountains, breathtaking drops and the power of nature. There are also majestic trees and massive fallen boulders to be seen: they make you feel tiny and you can literally feel the River Nevis reverberating in your chest as it crashes down through the gorge, especially after heavy rainfall. The final part of the walk, where the glen broadens out again, leads you to Steall Falls and the notorious wire bridge. If you are feeling brave and aren't put off by the Water of Nevis rushing beneath you, crossing the wire is an absolute must!
Most special time of year
Spring is the most special time of year because everything starts bursting to life as the days grow longer. Lambs playfully skip around the hillsides as beautiful wildflowers blossom, and the light at this time of year really makes nature's colours pop. I love feeling the warmth of the sun cutting through the crisp air, and, being able to enjoy warm, still days and sunsets without being eaten alive by midges is just dreamy!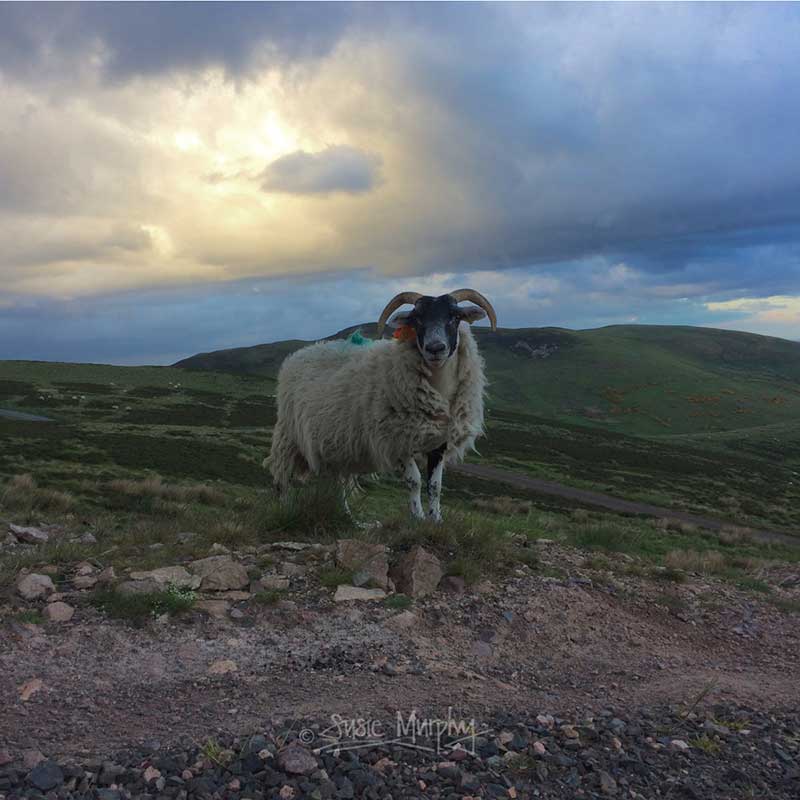 The one thing every tourist should do when on holiday in the Scottish Highlands and Islands
Visit Mallaig Art Gallery and Crafts to view an exclusive selection from my limited edition print range!  After doing this I thoroughly recommend going for a swim or taking a boat trip to Knoydart. The sea around Mallaig's coastline is crystal clear and warmed by the North Atlantic Drift. It is teaming with life and home to many species, including minke whales, basking sharks, porpoises and dolphins. A mask and snorkel is a must and if you catch the ferry to Knoydart you can visit mainland Britain's remotest pub!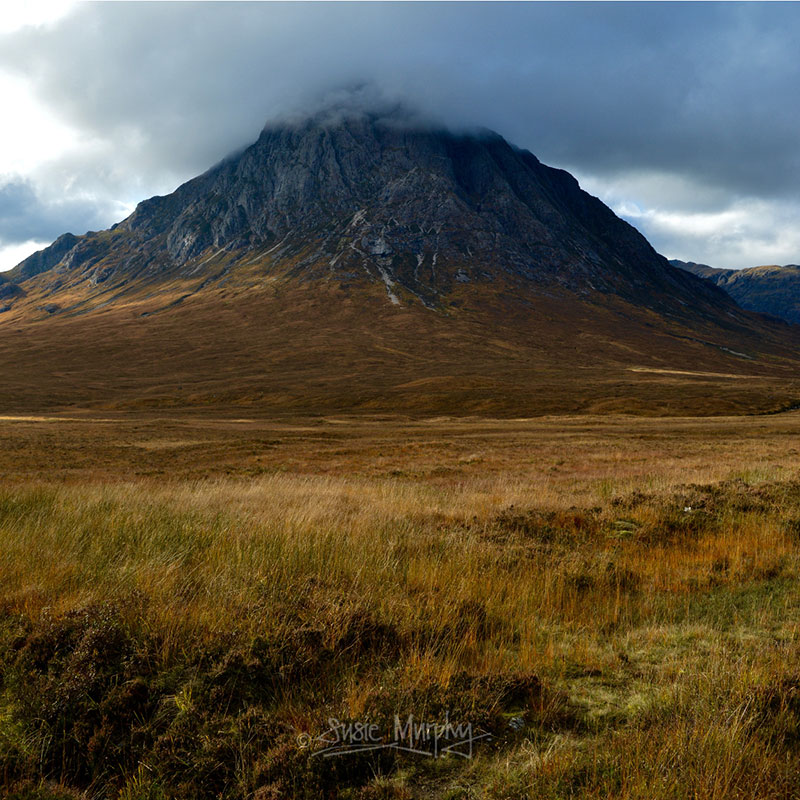 Your best wildlife encounter
I have been very lucky to experience quite a few wildlife encounters.  These have ranged from friendly sheep and inquisitive seals, to feeding a deer at the Kings House Hotel carpark in Glencoe. My best wildlife encounter was when a dragonfly happily perched on my finger one sunny afternoon at the foot of Creag Mhor. It was the first time that I had seen a dragonfly, so to have one sunbathe on the end of my finger was enchanting.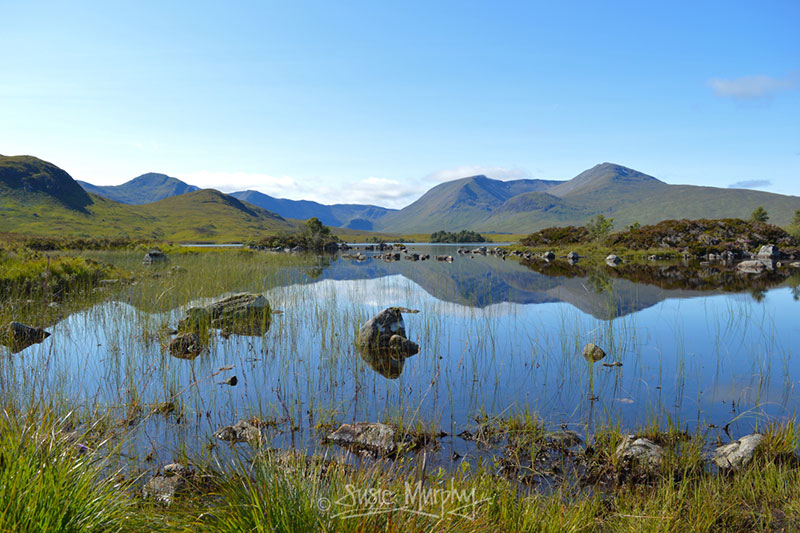 Favourite road or drive
Anywhere north of Tyndrum on or beyond the A82 because it leads to the Highlands and Islands and all of my favourite places. I first journeyed along this road as a child and I will never forget witnessing Glencoe's munros for the first time. The magnificent scenery blew me away and I still feel the tingle of excitement it evoked back then when I drive it now as an adult.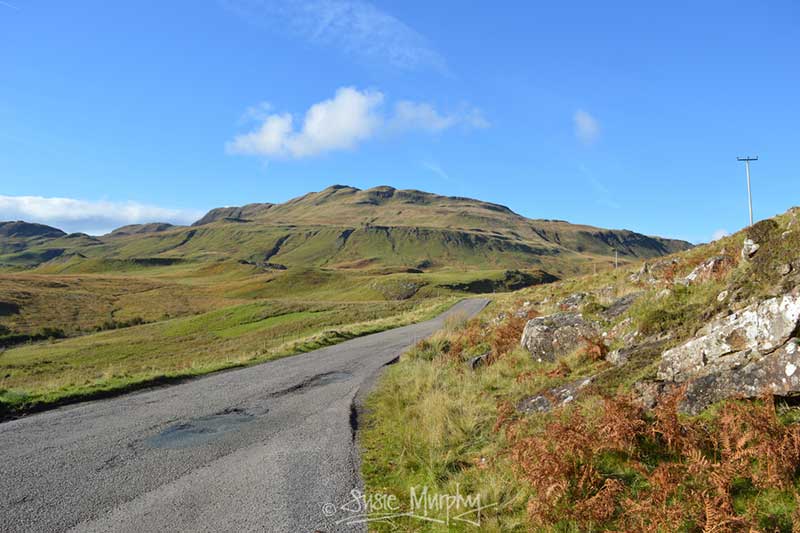 Most loved view
Looking onto Skye, the Cuillins and Point of Sleat from Back of Keppoch is my most loved view. I have spent many years soaking this horizon up, and it has inspired a number of my paintings. 'Tidelines' and 'The Machair's Dance' capture this iconic skyline in glorious, Scottish sunshine, and watching the weather, light and colours as they change across the sea to Skye is definitely one of my most favourite things to do.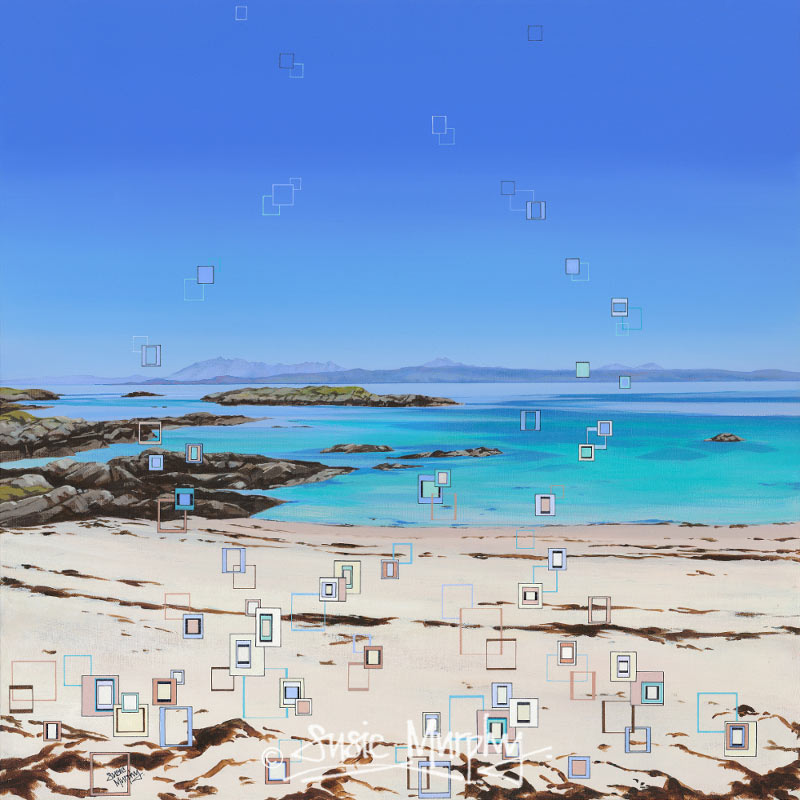 Favourite place to eat and drink
My favourite place to eat has to be out on the skerries off the shoreline of Arisaig. You can reach them by boat from Rhu, or, if you're feeling adventurous, you can paddle to them by kayak. Hidden miniature beaches can be found there and the skerries provide panoramic views out to the small isles. There really is no better place to enjoy a sunset with an Atlantic chilled bottle of beer and freshly caught, barbecued mackerel.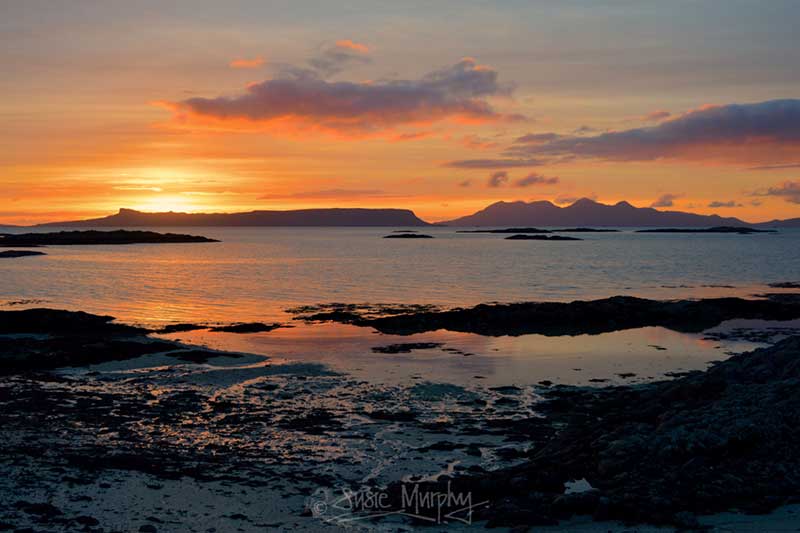 Holiday Scottish Highlands & Islands says…
Susie, thanks for sharing your top tips and some of your amazing paintings. We love the sound of an "Atlantic-chilled beer" and fresh mackerel on the BBQ. We're also adding a visit to Britain's remotest pub to the list. As people who are incredibly passionate about marine wildlife, we always try to do a few boat trips to see these incredible animals.
Find out more about Susie Murphy
If you want to find out more about Susie Murphy and see some more of her art, visit her website.