Christine MacNeill lives in Wester Ross where she runs a handmade confectionery business. She shares her inside knowledge of the best places to visit in Wester Ross for our Local Tips series.
About me
Hi, I'm Christine MacNeill and I live in Wester Ross with my partner and children. I am the Sugar Croft Faerie and I make all sorts of handmade sweet confections such as truffles, fudge and marshmallows. My sweets are all homemade to traditional recipes and I add flavours that have a Scottish twist with things like my Gingerbread Fudge or my Cranachan Marshmallows. My Sherbet-Lemon Marshmallows won a Gold Star on the Great Taste Awards 2014 – you can find them and my other sweets in Poolewe at the Tuesday Market and the Button Bothy. When I take off my Faerie Wings (which look like chef whites but I know what they really are), I love to cook for friends and family. My speciality is combining recipes from all over the world with vegan cooking. We eat food with flavours and influences from Ethiopian, Chilean, Armenian and many more cuisines. It's a good job that I also enjoy walking, Zumba and being outdoors!
How long have you lived here?
I've been living here for 10 years, having moved up from London. I grew up on the West Coast of Scotland and my roots and heritage are firmly here. Like many other Scots, I've moved away to various other parts of the UK for work. The time had come for the roots from the next generation of my family to feel settled and so I brought us all home.
Places to visit in Wester Ross – Favourite beach
My favourite beach is Mellon Udrigle, on Gruinard Bay. It has beautiful sands, amazing views and wide spaces for kite flying. We go there at all times of the year, to walk, to play and to see the latest sculptures that people have made from the pebbles. To get there, turn off the A832 at Laide Post Office and follow the single-track road for several miles, past Achgarve and down the hill to Mellon Udrigle. There is a car park after the campsite.
Want to enjoy Christine's favourite beach and stay at Mellon Udrigle?
If you want to spend some time in a beautiful location near Mellon Udrigle,
The Apartment
could be your perfect holiday home.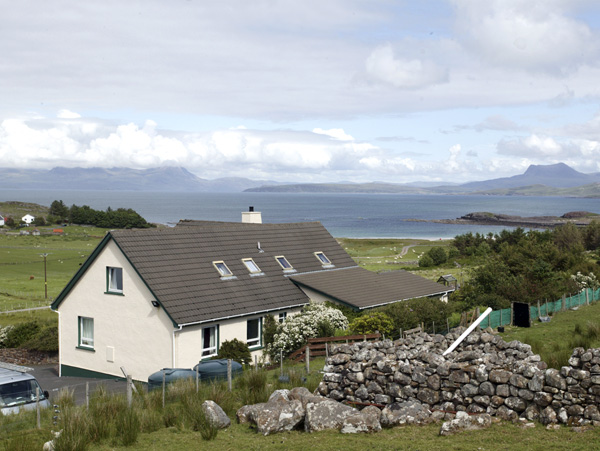 Best walk
The walk along Gairloch Beach, over the headland and towards the pier – it's a short walk but always colourful, always an amazing panoramic view across the loch towards Skye and a lovely contrast with the Flowerdale walks, which are nearby. There is parking for the beach at Gairloch Golf Club and more parking at Flowerdale and Pier Road.
Most special time of year
Definitely May. I'm writing this in May 2016 and we've been having hot summery days, glorious sunshine and you can hear the plants grow. It might rain tomorrow but that's OK.
The one thing that you recommend every tourist should do
Go out on the water. Get close the marine life, see a different perspective of the hills and learn about the history of the area.
Your best wildlife encounter
When I come round a corner and, unexpectedly, find a huge stag on a rock or by the road. Up close, just like on a postcard but real and magnificent. When it happens, it's always the best.
Read: 11 things to take wildlife watching – the gear you need
Best drives in Scotland – Favourite road or drive
The A832 from Braemore Junction (12 miles south of Ullapool on the A835) to Poolewe. The Highland landscape seems to take a turn for the wilder as you turn off at Braemore Junction. You drive past the stunning Corrieshalloch Gorge and rise to the windswept beautiful bleakness of the Destitution Road, over looked by An Teallach. After that, the road descends through another gorge to Dundonnell and the first glimpse of the sea. It takes you round Little Loch Broom, Gruinard Bay and Loch Ewe, each with viewpoints too numerous to mention. For the final miles from Aultbea to Poolewe, the road hugs the cliff tops, while it twists and turns and just about holds on.
Most loved view
Loch Ewe from Mellon Charles. It's a wee bit of a walk from the turning circle at the end of the road, perhaps best taken after tea at the Mellon Charles
Perfume Studio
. Go through the gate and follow the track, taking the right hand turn, which heads inland. As you climb up the hill, you can look back over Loch Ewe, Isle of Ewe and the Torridon Mountains in the distance. The track ends near the top of the hill and from there, you can see across the Minch to Lewis.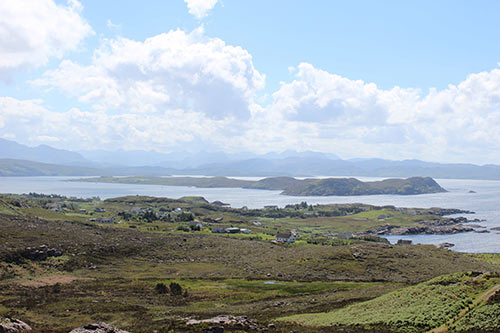 Favourite place to eat and drink – Gairloch and Aultbea
This is a difficult one to answer as there are so many good places to eat out near here and so I'm going share this answer with my son. I like the
Coast Coffee Company
, Pier Road, Gairloch, near the harbour, for lunch. They have good coffee, mint tea and falafel with chilli jam. My son likes the
Barn Café at Gairloch Sands Campsite
for dinner where he loves their vegetable teriyaki. Both are family-friendly and offer wholesome hearty fare and, being in the Highlands, an excellent range of cakes. Picking out my favourite place to drink is easier – I like the
Aultbea Hotel
. Why? In a word, gin. There are plenty to choose from and lots of suggestions for new ways to mix them.
Holiday Scottish Highlands & Islands says…
Thanks, Christine, for sharing the best places to visit in Wester Ross. Mellon Udrigle is one of my favourite beaches too in the Gairloch area. If you're in the Poolewe area make sure you pop into Poolewe market and try some of Sugar Croft Faerie's sweet treats. I've bought some in the past and they were delicious! The cranachan marshmallows sound fantastic.
Find out more about Sugar Croft Faerie
Plan a trip to Wester Ross, Scotland
If Christine's advice on the best places to visit in Wester Ross has inspired you to explore this beautiful part of the Scottish Highlands, here's some help for planning that perfect holiday:
Ordnance Survey maps with free mobile download – various combinations available for the Gairloch and Loch Ewe area from Ordnance Survey and Amazon to help you plan the best places to visit in Wester Ross
Want more local tips?