Shane Wasik shares his things to do in Argyll. He lives in Oban, Argyll with Nikki and their two kids Mara (4) and Torran (2), Tui the cat and a few fish! They run Basking Shark Scotland which they started in 2012 after returning from living in New Zealand. Shane's involved in everything from basking shark and wildlife adventure tours, wild swimming & snorkelling, paddleboarding, kayaking, filming to cleaning penguin enclosures!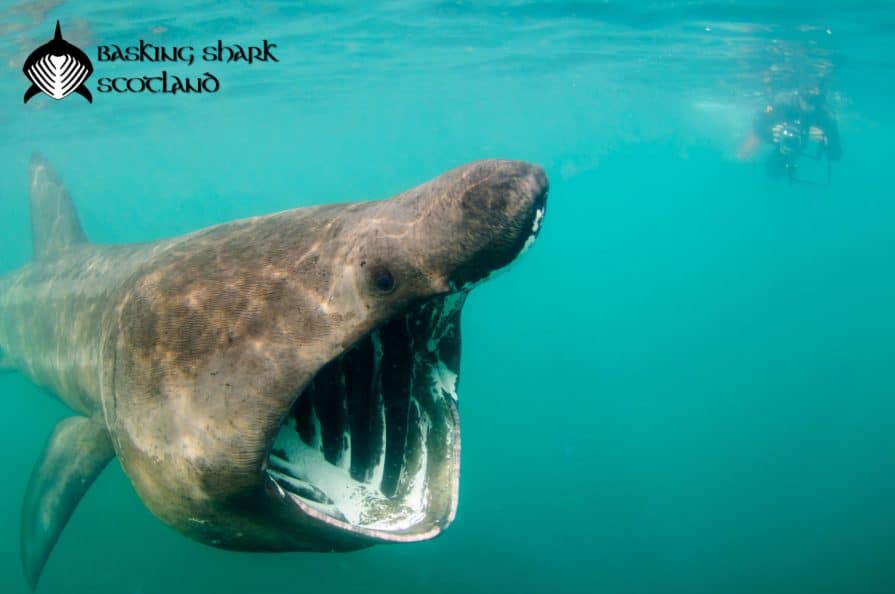 The business blurs the lines between hobbies and work as most of the water-based activities and photography has become work over the years. His main interest is cycling, whether that being road, mountain bike or taking the kids to nursery!
How long have you lived in Oban?
I'm originally from the east coast. I grew up on the Fife coast and left to study Marine Biology in Edinburgh. Then I lived in New Zealand for a few years. We started the business in Oban around 2012 and have been based here full-time from around 2015.
Things to do in Argyll – Favourite beach in the Oban area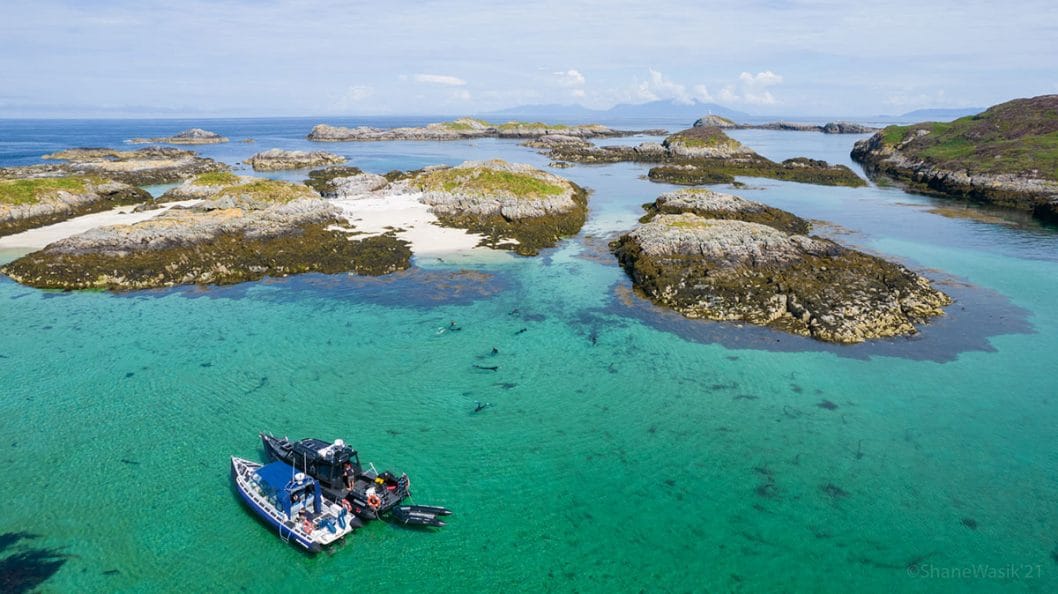 This is a very hard question to answer given the amount of beaches we have around the islands we visit! How about two?
One is a secret beach on an offshore island (and doesn't have a name) that we visit on our tours. Surrounded by crystal clear water, the beach is white shell sand and absolutely spectacular on its day!
Then I'll go for Ganavan in Oban. It may not be quite up there with some of the epic Hebrides ones, but it's such a great one for Oban. Great for swimming and paddle boarding and our regular one close to home with the kids.
Best walk in the Oban area
This is too hard – there is so many and for so many different abilities. I recommend the Lost Valley in Glencoe and Steall Falls near Fort William as really great adventures that need moderate levels of fitness.
Oban esplanade to Dunollie on a calm evening is really nice to pass the bustling boats and harbour, but still there is wildlife like otters and seabirds to watch as you walk out towards the castle.
Most special time of year in Oban
This is an easier one! Mid-spring for me, as it's usually the most settled and dry time on the west coast. Wildlife has returned after winter and there is lots of daylight. There's lots of energy for getting out on adventures and the excitement of what lies ahead for our wildlife season. All the wildflowers are blooming then too and it's my favourite time to visit the puffins as they run around through the bluebells.
The one thing every tourist should do in Oban
Oban can be a bit of a gateway place for heading to the isles or surrounding area. But there are great things close by here like the Oban distillery, seafood shack on the waterfront, McCaig's tower and Ganavan beach. When it comes to things to do in Argyll, there are so many activities on your door step, from on the water to the mountain tops, so you are really spoiled for choice!
Your best wildlife encounter
Got to be the basking sharks!!!! On it's day during settled weather in full summer we have numerous sharks, minke & humpback whales, dolphins, leatherback turtles, sunfish, orca, seals, tuna and seabirds. World-class wildlife – but just like everywhere you need a bit of time to see the best of it and some luck with the weather.
Favourite road or drive
It's a bit of a honey pot but you can't really go wrong with heading through Glencoe which is just up the road from us in Oban. Spectacular scenery and walks.
Most loved view – Things to do in Argyll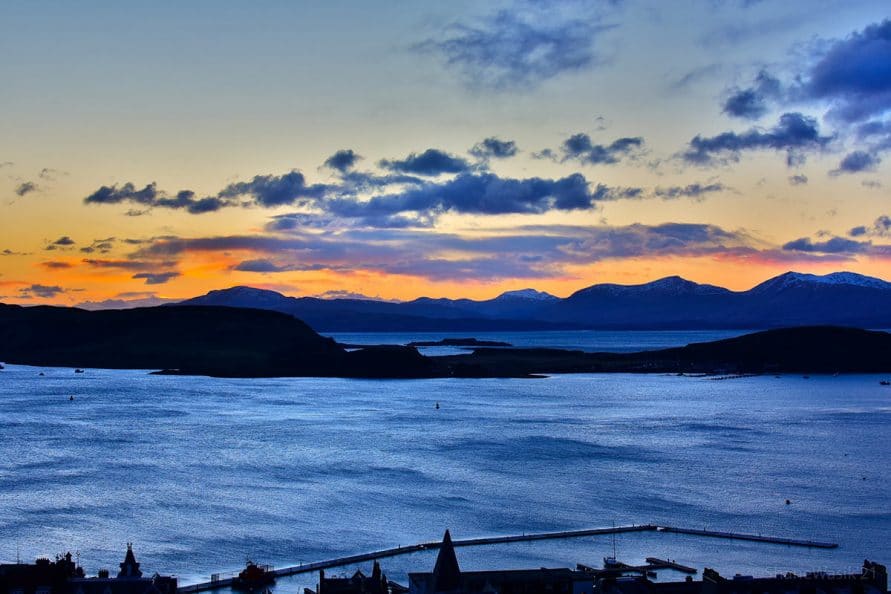 One thing you should make sure you see is the view at sunset from McCaig's tower in Oban. The view looking out over Oban bay, the isles of Kerrera, Lismore and Mull is very hard to beat.
Favourite place to eat and drink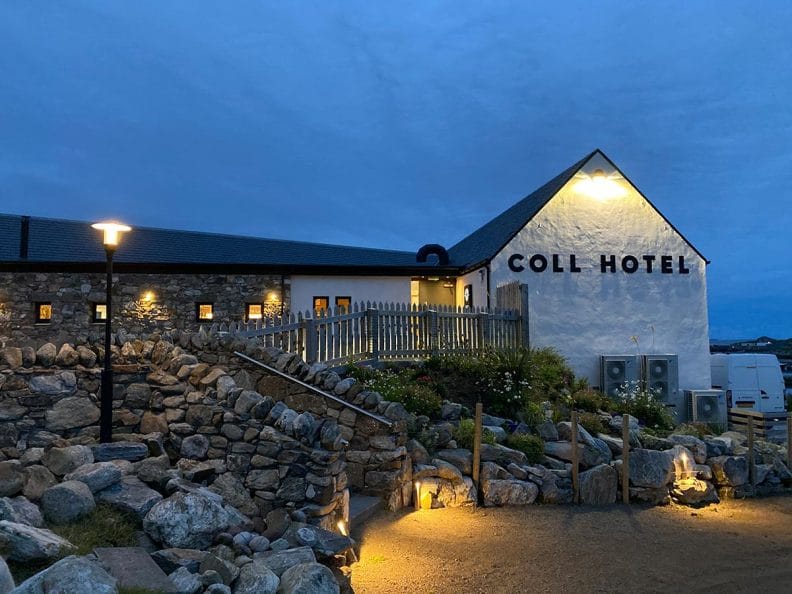 We spend our summers based on the Isle of Coll and the award-winning Coll Hotel has special memories for me. A stunning view over the harbour with great food and drink. Haggis won tons with sweet chilli sauce sounds a bit random but is superb!
Have you any tips for exploring the rest of the Highlands and Islands?
For an extra wee day adventure from Oban, you can't beat our nearest island of Kerrera. Just a short hop from Oban on the ferry, it's a very nice circular walk around the island taking in the view at the ruined Gylen castle. Lunch or cakes at the Kerrera tea garden is a favourite with us too.
Holiday Scottish Highlands & Islands says…
Thanks, Shane, for some interesting suggestions for things to do in Argyll. As a haggis fan, those haggis won tons sounds very tasty. We also recommend the Isle of Kerrera for a day out and those trips to see basking sharks sound amazing!
Find out more about Basking Shark Scotland
You can find out more about Basking Shark Scotland and the trips they run on their website.
Want more local tips for things to do in Argyll?
Where will you stay?