Lisa Weller is a painter who owns Haven House Art Studio & Gallery in Wick, Caithness, "The Far North" of Scotland. Lisa shares with us her local tips for things to do in Caithness.
About me
I have been painting full-time since 2009 and I have never been happier. I was on a corporate path, driven by money and status, but it wasn't 'me'. Originally from the south of England, I now live in my little house on the cliffs, just outside of Wick, called Haven House. I have always painted and been creative. I blame Grandma. She gave me the genes and taught me everything, but the most important information the 8 year old me clung to was that nothing in nature is one colour…It is made up of many colours and shades. Thank you, Grandma. If I am not painting, I am out with my camera. If not out in nature, I am writing poems or short stories. Life is bursting with inspiration and my imagination thrives on it.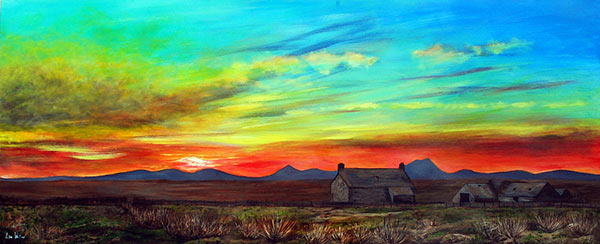 Commissions include a collection of photographic style canvases for Tim Loughton MP, which are exhibiting in the Houses of Parliament, London and a painting for HRH the Prince of Wales to commemorate 60 years since he first came to Caithness, on behalf of the Royal British Legion.
How long have you lived here?
I came to Caithness in 2011, by accident. I'd applied to work in a pub/hotel for a season. I'd toured most of Scotland, but never the far north east corner. There's not much up there people said and it nearly put me off. What they mean is there aren't many theme parks or shopping centres, but what they forgot to mention was the vast array of natural attractions that my creative mind hankers after. I was hooked after 4 weeks, left the pub, and went to stay in a castle for 5 months…I was home. It's so different to the busyness of Brighton where I was born. Here in Caithness I get to breathe and just be.
Favourite beach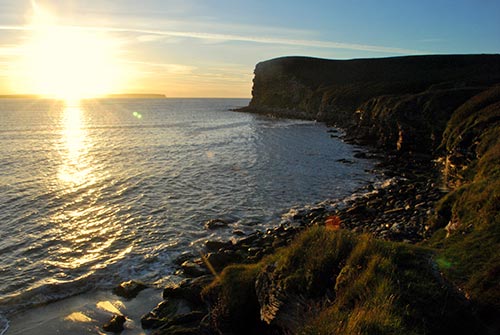 Peedie Sands, near Dunnet Head. It's off the beaten path and unless you are told about it you wouldn't really know it is there. Drive to Dwarwick Pier, park up and be prepared to hike a mile or so up and over the cliff. Keep going down the other side and you will soon stumble across your own private, secluded beach with white sands and turquoise sea.
[bctt tweet="your own private, secluded beach with white sands and turquoise sea" username="holidayhighland"]
This is a place I go to when I really want to disappear and be alone in nature. I've been in all weathers but my favourite has to be an autumnal sunset and sitting on the cliffs above the beach watching the sun dip below the horizon. Just breath-taking,
Best walk
I walk a lot and one of the joys of Caithness and Sutherland is that you can walk for miles and not see a soul. Plus you can choose your walk depending on your mood. Sometimes I need the seclusion of a forest, in which case I will go to Broubster Forest, which you can walk and cycle in. There are many stunning empty beaches to walk on, such as Dunnet Beach or Reiss Beach, or you can choose any section of coast and just walk along it, taking in the views. Dunbeath Strath is a great inland walk for taking in scenery and different historical elements too.
Most special time of year
July and August. I am originally from down south so I'll take any heat I can get! Plus the colours at that time of year are immense. Everything is in full bloom – the gorse, the wild flowers, the heather. That time of year has inspired many a painting already. It's like everything in nature goes extra vivid. I am talking yellows, bright pinks and greens.
The one thing that you recommend every tourist should do when visiting Caithness
Well there's just so much, but the top three has to be a boat tour with SeaCoast Boat Tours based at Wick Harbour. I've done a few trips with them and it's always exhilarating and exciting. My favourite was the trip to the Pentland Skerries where they let you wander the island for a couple of hours. They give you a historical tour and geological tour of the coastline on the way and let you wildlife spot. Second is a trip to Duncansby Stacks, our iconic needle-like stacks that sit in the sea, just 2 miles away from John O'Groats. I remember being in awe the first time I saw them. And the third has to be Whaligoe Steps, where you can climb down the 320 steps that are cut into the cliff, to the disused harbour at the bottom. It's like walking back in history.
Your best wildlife encounter
My husband did see a Killer Whale (Orca) when he was stood in the garden. Sadly I was too slow and missed it. So my favourite wildlife experience, apart from seeing the northern lights quite regularly, is being taken out in a boat from Lybster Harbour by a retired sea captain. We saw puffins swimming in the sea, fluffy white seal pups on rocks and we hauled lobsters and crabs. He taught me how to prepare the crabs for my tea!
Read: 11 things to take wildlife watching – the gear you need
Favourite road or drive
I love the circular drive that takes you out west as far as Strathy Beach, then across to Helmsdale, then back up the coast to Wick. It takes all day, especially with stops, but there is so much to see and it is all so varied. You will get wide, empty beaches, a beautiful strath and valley, lots of harbours and an assortment of wildlife all in one day.
Most loved view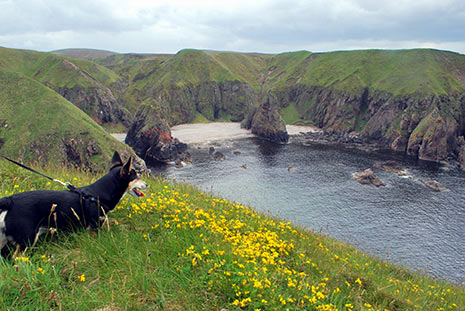 Apart from the one from my house and garden, which is amazing as the sun comes up in the bay, it has to be one I stumbled upon and which hardly anyone knows about. Drive through Melvich and you will come to a little village called Portskerra. You need to find your way onto the cliffs, and head away from the village, heading west. You will come to a truly stunning view, even better than Duncansby Stacks, in my opinion. It's just like Lord of the Rings landscape, with pinnacles and epic crags and crevices that drop into the sea.
Favourite place to eat and drink in Caithness
Mackays Hotel, in Wick, is great for a treat. The food is superb and locally sourced. I love the steak and the desserts, or course!
Other tips
The North Coast 500 is a must if you like touring, but be sure to get out the car as much as possible. I think it's really important to immerse yourself in the landscape to truly get a feel for it.
Holiday Scottish Highlands & Islands says…
Thanks, Lisa, for sharing some of your secret and obviously very special places with us. This isn't an area we've explored but we've added it to the list because it looks beautiful. Lisa's art is amazing so do take a look at her website and visit her art studio and gallery if you're in the area.
Ellie from Mackays Hotel in Wick has also shared her suggestions in Local tips: What to do in Wick, Caithness
Find out more about Haven House Art
You can visit me in my cottage, see me at work, and purchase some art, Mondays and Fridays, 1 – 5pm.
You can follow me on Facebook at Haven House Art or sign up for my fortnightly blogs on my website www.havenhouseart.com
My work reflects the local landscape so be sure to pop in and visit me in my studio. Cards start at just £2.
Plan a trip to Wick & Caithness
Accommodation in Wick area
Bulchatton Cottage – holiday cottage with glorious sea and countryside views
Rose Cottage – detached self-catering holiday cottage perched on a cliff overlooking the sea in a peaceful location
Ackergill Tower – luxury hotel in a 15th century castle
Useful information
Ordnance Survey maps with free mobile download – various combinations available for the Wick and Caithness area from Ordnance Survey and Amazon