Scotland's wildlife is one of the biggest attractions for us and we spend many happy hours watching the incredible birds, mammals and insects of the Scottish Highlands and Islands. If you're a fellow wildlife-lover, I want to share with you some books about Scotland's wildlife and natural world which may help you learn more about these amazing creatures and places. Please share any of your recommendations in the comments as we're always looking for more books to read. Thanks.
RSPB Handbook of Scottish Birds – Peter Holden and Stuart Housden
The RSPB Handbook of Scottish Birds is the ideal reference book whether you're a keen birder or just have a general interest. This second edition covers more than 250 species with information on identification, voice, habits, habitat, food, breeding, ecology, seasonal movements, population and Gaelic names.
Collins Bird Guide
We keep a copy of the Collins Bird Guide in the car and this is a brilliant alternative if you want a guide that covers Britain and Europe, not just Scotland.
This guide to Scotland and the Scottish highlands and islands, one of Europe's fastest growing adventure holiday destinations, explores the hidden parts of its better known tourist areas, as well many more remote regions, rarely visited by tourists. Guiding you to over 800 wild swims, ancient forests, lost ruins and hidden beaches. Including inns, wild camping, local crafts, artisan whisky distilleries and wild places to stay.
On a Rising Tide – Charlie Phillips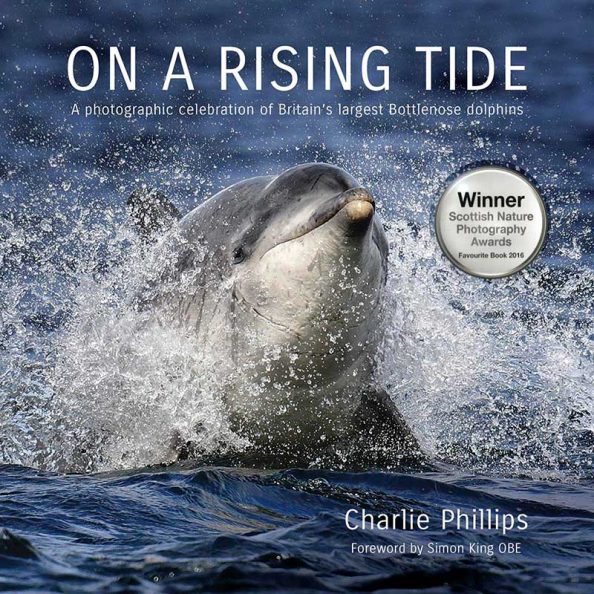 Stunning photos of bottlenose dophins in the Moray Firth by Charlie Phillips, renowned photographer and WDC dolphin expert. If you've been to Chanonry Point on the Black Isle, you've probably met Charlie or you've probably seen him on wildlife TV programmes.
Buy from Charlie's website or from Aurorabearalis craft studio in North Kessock, near Inverness
Scotland's Nature & Wildlife – Kenny Taylor
Want to glimpse a falcon on a quiet crag, scent wildflowers close to the centre of town, or hear a whale's breath out on the ocean? Want to do it in Scotland? This is the book that can point you there. Whether your interest is in wee beasties or large mammals, birds or plants, there's something in here for you. Information on how, where and when to enjoy a host of Scottish wildlife is presented in easily read but authoritative text, illustrated by some of Scotland's top wildlife photographers.
Best Birdwatching Sites: Scottish Highlands – Gordon Hamlett
This guide to the best birdwatching sites in the Scottish Highlands which also includes some islands such as Mull always comes on holiday with us. It contains detailed information of places to go and the bird species you may see at different times of year. Driving routes are also included which is great for you if you have mobility issues and tend to birdwatch from your car.
The Secret Life of the Cairngorms – Andy Howard
Andy Howard is a leading wildlife photographer located in the Scottish Highlands, whose principal subjects are mountain hares, otters, red squirrels and birds. His new book, to be released for Christmas 2019, follows him deep into the Cairngorms National Park and is illustrated with a stunning selection of his nature photography.
Highlands – Scotland's Wild Heart – Stephen Moss
In the very north of Britain, far from the bustling cities and picturesque countryside to the south, lies Western Europe's greatest wilderness: the Scottish Highlands.
This is a land shaped by the flow of ancient ice, where snow-capped mountains tower over ink-black lochs, Golden Eagles soar over heather-clad moors, and Red Deer stags engage in mortal combat for the right to win a mate. Along the coast, sea cliffs and offshore islands teem with millions of seabirds, while the seas themselves are home to Basking Sharks, Orcas and Bottlenose Dolphins. The Highlands may at first sight seem bleak and desolate, but they are also filled with secret wonders, from the ancient Caledonian pine forests to the vast Flow Country, and from the sheer granite cliffs of Handa to the mysterious depths of Loch Ness.
This lavish companion to the BBC TV series of the same name features Stephen Moss's thoughtful, authoritative text accompanied throughout by spectacular photography from Laurie Campbell.
Highlands – Scotland's Wild Heart follows a year in the lives of a stellar cast of wild animals as they live, feed, breed and die in this beautiful, yet unforgiving landscape – a land where only the toughest survive.
Scottish Wild Flowers
A handy pocket-size guide to over 350 plant species found throughout Scotland. Packed full of information, is a convenient guide for both visitors and residents of Scotland who wish to learn about the fascinating wealth of wild flowers that can be found there. Each species is illustrated in full colour with a comprehensive description, plus the plant's English, Latin and Gaelic names. For ease of use, the plants are grouped together by the type of habitat in which they can be found, including Highlands, Lowlands and Coasts.
A Richness of Pine Martens: Wildlife Tales from Ardnamurchan – Polly Pullar
"When Les and Chris Humphreys moved to Ardnamurchan 15 years ago, little did they realise they would be sharing their home with some of Britain's most elusive and misunderstood mustelids."
Naturalist and photographer, Polly Pullar, has known the Humphreys and their pine martens for many years. This book combines stories about her friends and the wildlife they share their home with in the beautiful oakwoods of Ardnamurchan.
Europe's Sea Mammals Including the Azores, Madeira, the Canary Islands and Cape Verde – Rob Still
A state-of-the-art photographic identification guide to Europe's whales, dolphins, porpoises and seals This cutting-edge photographic identification guide to Europe's sea mammals-the only such guide of its kind-covers the 39 species of whales, dolphins and porpoises and 9 species of seals found in the region, which spans the eastern Atlantic from Iceland to Macaronesia, and the Mediterranean, Caspian and Baltic seas. Written and illustrated by a team of professional tour guides with extensive experience presenting the region's sea mammals, the guide features more than 180 color photographs, maps and graphics, highlights key identification features and includes information on the range, ecology, behaviour and conservation status of each species. Produced with the marine conservation charity ORCA, the book presents mapping data from a decade of surveys, which shows both current distribution and changes over time. Europe's Sea Mammals is an essential companion for whale watchers and anyone else who is interested in this enigmatic group of mammals. The only photographic guide dedicated to this popular whale-watching region Features more than 180 color photos, maps and graphics Highlights key identification features and provides essential information on the range, ecology, behaviour and conservation status of each species.
Britain's Butterflies: A Field Guide to the Butterflies of Britain and Ireland – David Newland
Although not just a book about Scotland, Britain's Butterflies is a comprehensive and beautifully designed photographic field guide to the butterflies of Britain and Ireland. Containing hundreds of stunning colour photographs, this revised and updated edition provides the latest information on every species ever recorded. It covers in detail the identification of all 59 butterfly species that breed regularly, as well as four former breeders, 10 rare migrants and one species of unknown status. The easy-to-use format will enable butterfly-watchers–beginners or experts–to identify any species they encounter. * Stunning colour plates show typical views of each butterfly species, including the various forms and aberrations* Detailed species profiles cover adult identification; behaviour; habitat requirements; population and conservation; egg, caterpillar and chrysalis; and status and distribution, including up-to-date maps* Photographs of egg, caterpillar and chrysalis for every breeding species* Sections on biology, where to look for and how to identify butterflies and other essential information
Dancing with Bees – Brigit Strawbridge Howard
Brigit's book is a great read for anyone who is generally fascinated by bees. It also has several chapters about bees in Scotland including the Great Yellow Bumblebee found in places such as the Outer Hebrides. Written in a lovely informal, conversational way with lots of interesting facts.
You may also like…