We give you some ideas of the best Scottish gifts for birthday, Christmas, wedding anniversary or just a surprise present. Whether you're looking for handmade Scottish gifts or Scottish-themed presents here's some great Scottish gift ideas for 2019/2020. If you see something you'd like for yourself, why not send a link to this page as a subtle hint.
Here's our selection of the best Scottish presents:
Personalised Sheep Key Ring And Bag Charm
Never lose your keys again with a My Baboo personalised sheep key ring, lovingly hand made in the heart of Scotland which can be personalised with an initial sewn onto one side.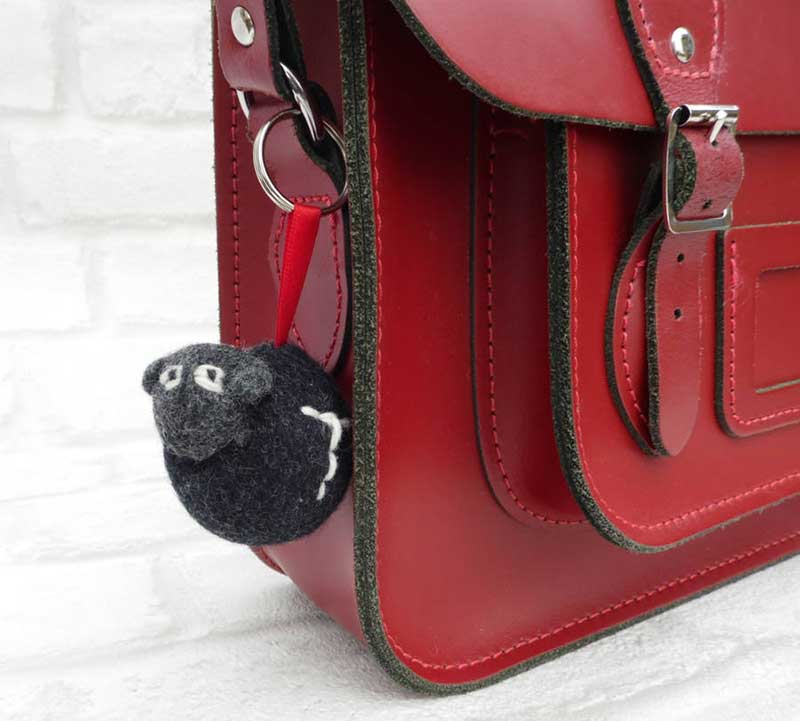 Present for Scottish beer drinkers – Scottish brewery map
With real ale and craft beer becoming more popular you're bound to know someone who will love this Scottish brewery map which has been created using place names of breweries, and brewing terms.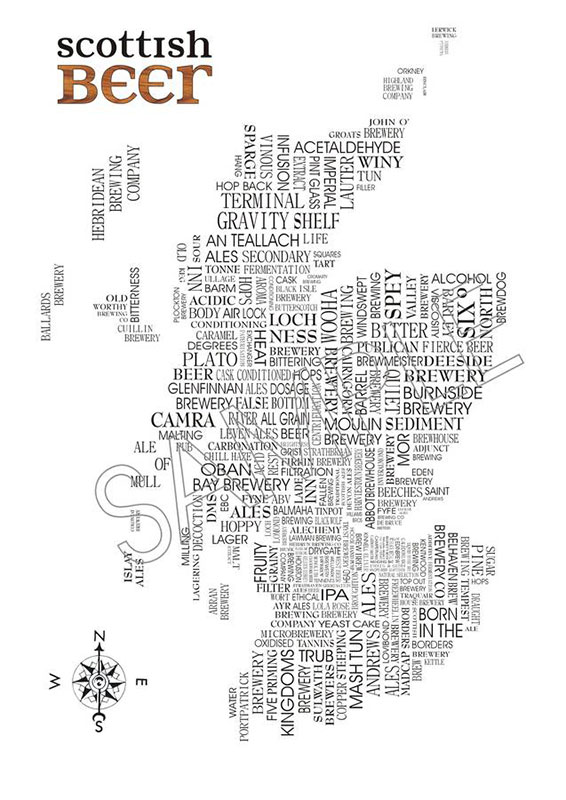 Buy from Not on the High Street
Gift for Scottish whisky drinkers
Whisky Advent Calendar
This has to be the best idea for an advent calendar. Whisky fans will love this alternative calendar with 24 different drams to get them into the festive spirit. From new explorer to seasoned connoisseur, there's something for everyone.
Scottish Hip Flask with Saltire design
This stainless steel hip flask is covered in a leather Saltire flag design. A robust and stylish gift for lovers of Scottish whisky who like to carry a few drams in their pocket.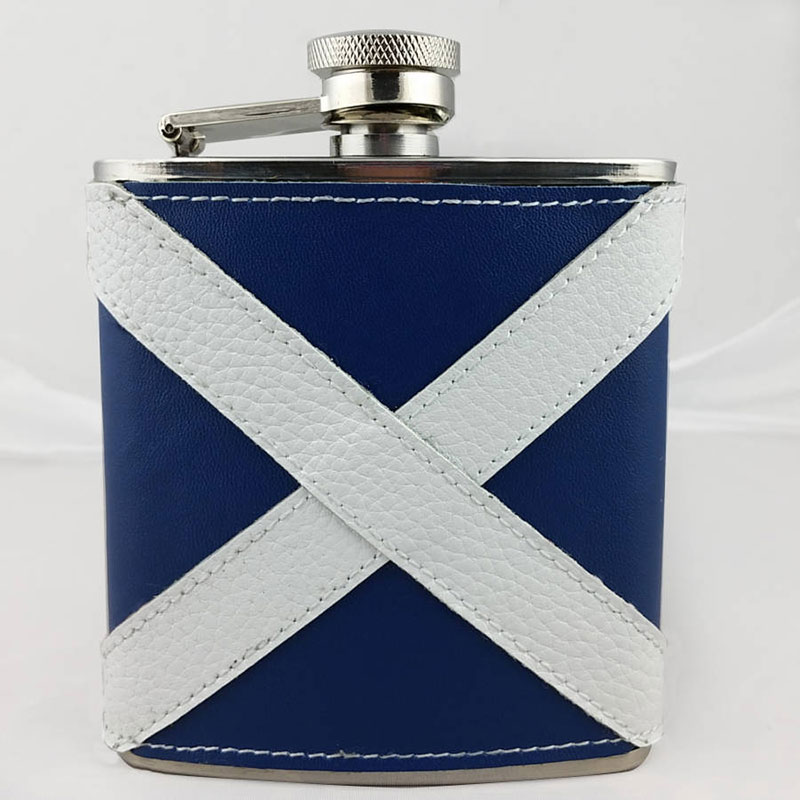 Buy from David-Louis Designs
The Scotch Malt Whisky Society membership
Treat any whisky fans in your life to membership to The Scotch Malt Whisky Society so they can enjoy discovering the world's widest collection of single cask whiskies. Membership benefits include exclusive access to around 20 new whiskies and spirits in their monthly Outturn, entry for the member and up to three guests to the Society's four Members' Rooms in Edinburgh and London, tasting events, discounted dram prices at all SMWS partner bars across the UK and the rest of the world, and
a free subscription to Unfiltered, their award-winning members' magazine.
Whisky advent calendar or a bottle of Scottish whisky
Any whisky lover will enjoy opening a bottle at Christmas on their birthday. Choose their favourite or pick something new for them to try. An whisky advent calendar is a fantastic early Christmas present and is a wonderful way to sample lots of different whiskies. They also sell other spirits such as gin and rum.
Ideal for fans of contemporary art – The Machair's Dance painting by Susie Murphy
Susie's paintings "illustrate iconic scenery from around Scotland and include a unique geometric twist".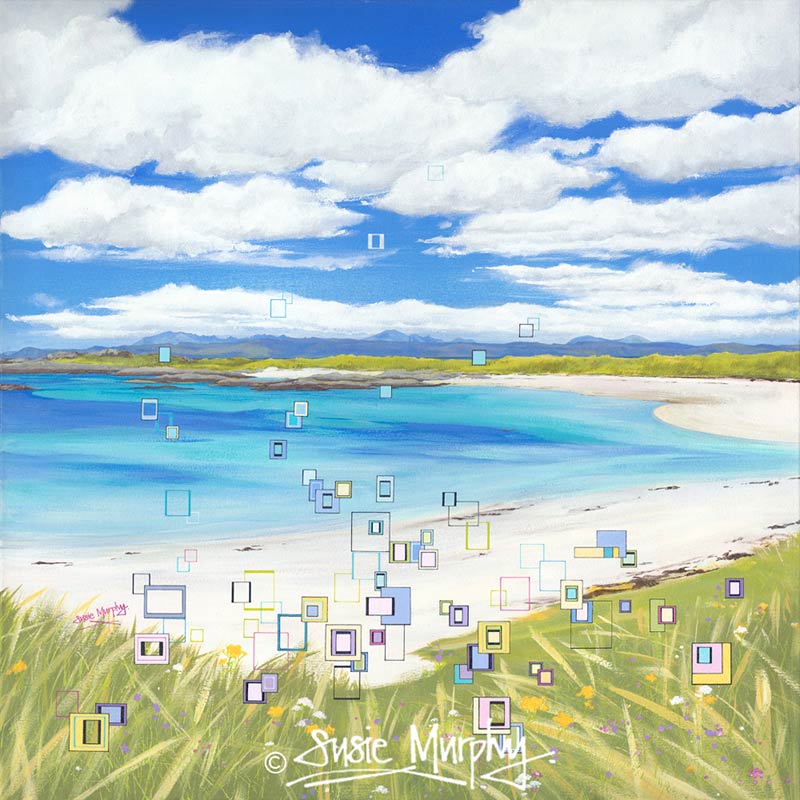 Homemade Iron Bru Tablet (other flavours available)
Homemade Scottish Tablet flavoured with Irn Bru for a fully Scottish sugary treat.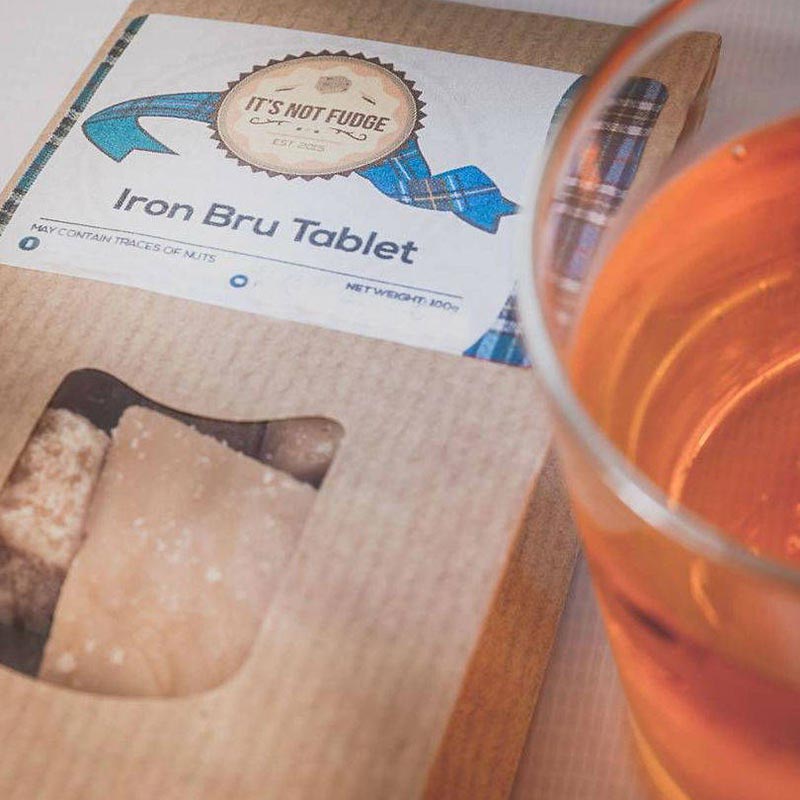 Gift for a lover of Scottish islands – Scottish Isles Personalised Print
A unique Christmas present to celebrate a special Scottish island in your life such as where you met, got engaged, had your wedding or other special event or place which you want to celebrate. You can personalise the print with date, names and event as well as choosing colours and a symbol to pinpoint the exact location.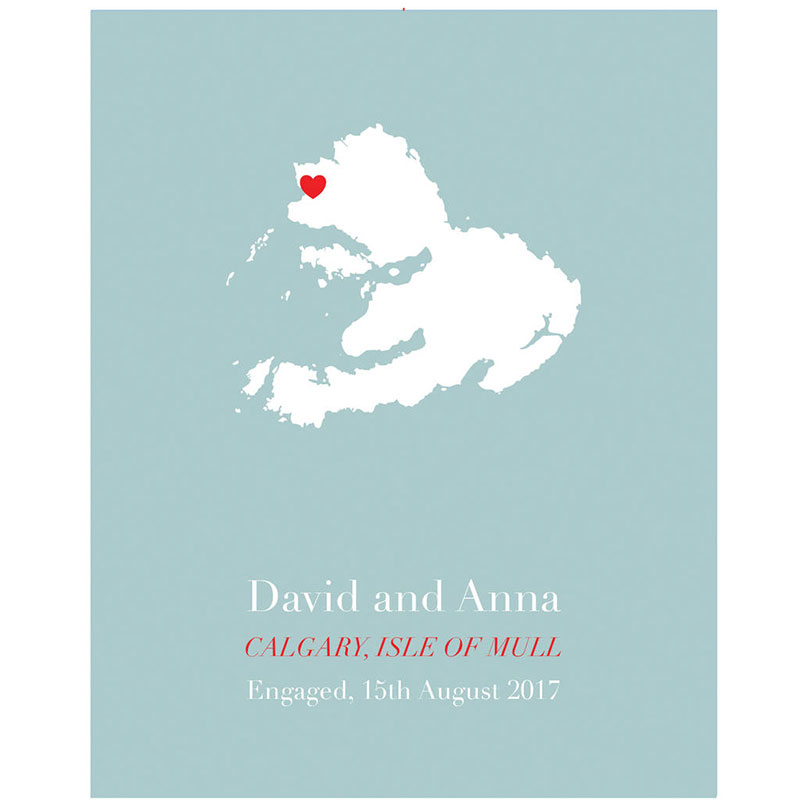 There's Nae Place Like Hame – Scottish phrase wall art
This wooden laser cut pennant flag celebrates the Scottish phrase "There's Nae Place Like Hame" (There's No Place Like Home) and the text is in the style of Charles Rennie Mackintosh. Other phrases unique to Scotland are also available.
Other phrases available
The Scottish Bothy Bible
This first ever complete guide to the Scottish bothies reveals Scotland's unique and often hidden network of bothy cabins and mountain huts. Scattered across Scotland s most beautiful landscapes, these evocative abandoned crofts and farmsteads are free to stay in and offer a chance to experience the ultimate in wild adventure living.
Christmas gift for tea drinkers – Scottish Thistle Knitted Tea Cosy
Knitted in supersoft lambswool in Scotland this tea cosy features a row of thistles and is lined with 100% cotton fabric.

'Tunnock's' Scottish Coasters
A set of four Tunnock's teacake and caramel wafer design coasters celebrating the famous Scottish tea time treats, made just outside of Glasgow.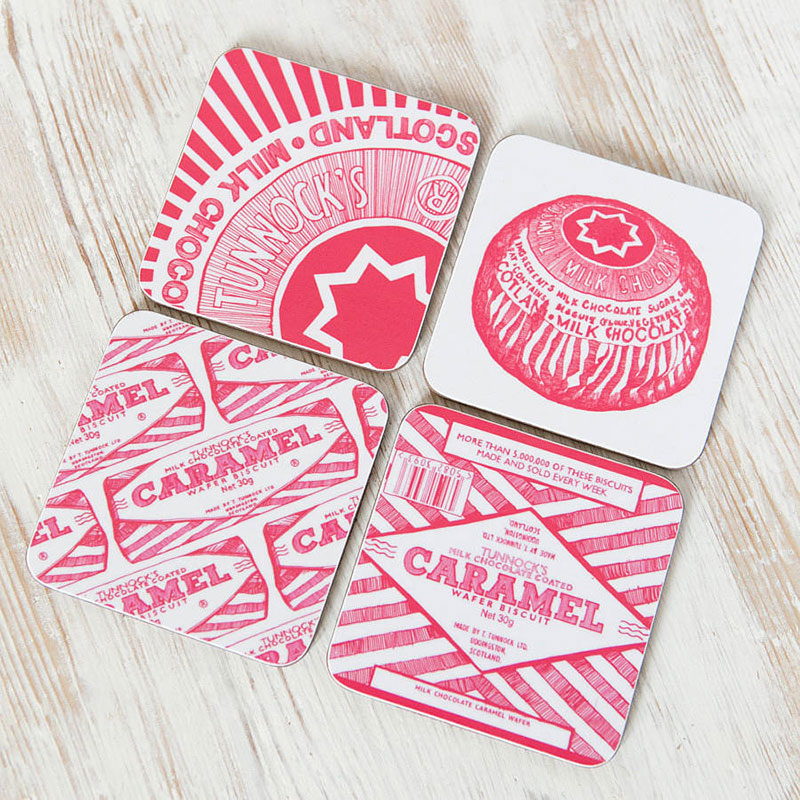 Buy from Gillian Kyle Gift & Home
Present for a dolphin lover – "On a Rising Tide" by Charlie Phillips
 Winner of Favourite Scottish Nature Photography Book Award 2016. This award-winning book contains nearly 100 of Charlie Phillips' photographs of the Moray Firth bottlenose dolphins.
 Present for a Scottish beer drinker – Case of 12 Scottish beers
A fantastic collection of hand-crafted Scottish ales featuring independent breweries from all over Scotland from Isle of Skye to Edinburgh and Alloa to Loch Fyne. A perfect gift for a real ale fan missing the taste of Scotland or any ale drinker who wants to see what Scottish breweries have to offer.
Present for fans of Scottish wildlife –  Wildlife map of Scotland
I bought this wonderful wildlife map as a birthday gift for my boyfriend and I love it. If you know any nature fans, they will love this map whatever their age. The map features 35 animals including:
Red Deer, Red Fox, Red Squirrel, Badger, Daubenton's Bat, Mountain Hare, Orkney Vole, Otter, Pine Marten, Roe Deer, Wild Goat, Wildcat, Atlantic Salmon, Basking Shark, Bottlenose Dolphin, Common Seal, Grey Seal, Harbour Porpoise, Minke Whale. Orca (Killer Whale), Shetland pony, Highland cow, Brown hare, Oystercatcher, Adder, Barn Owl, Golden Eagle, Osprey, Red Kite, White-tailed Eagle, Gannet, Red Grouse, Black Grouse, Puffin and… the Loch Ness Monster.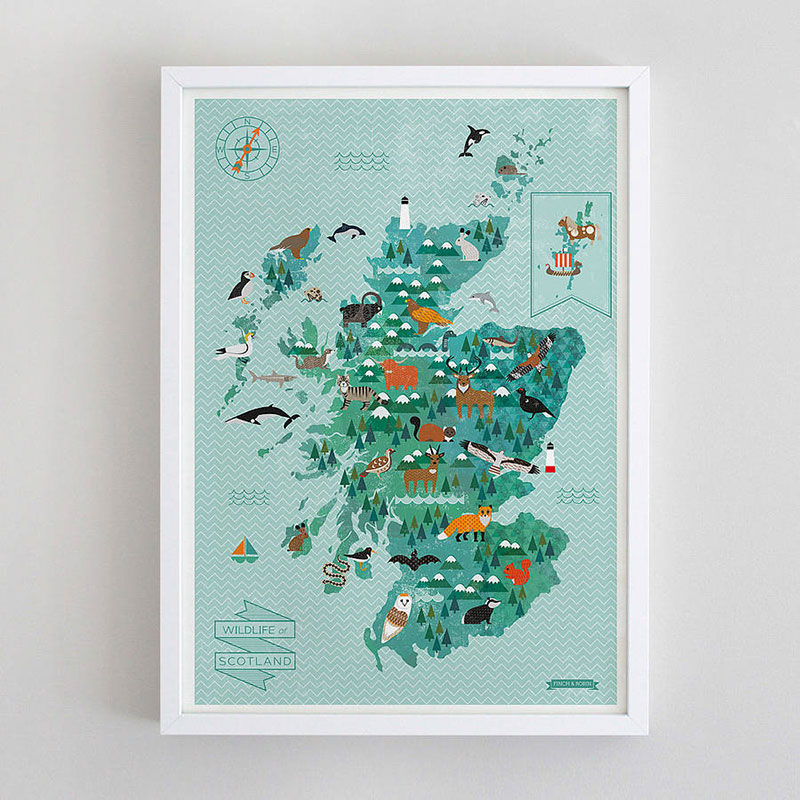 There are other Scottish maps such as whisky maps, the Isle of Skye and the distilleries of Islay.
Large Handcut Slate Runner (Gift Boxed)
Stunning slate runners ideal as centre piece on your dining room table and can be used like a trivet for hot and cold dishes. Also available in other shapes and sizes.
Buy from Scottish Slate Gift (Amazon)
Harris tweed dog collars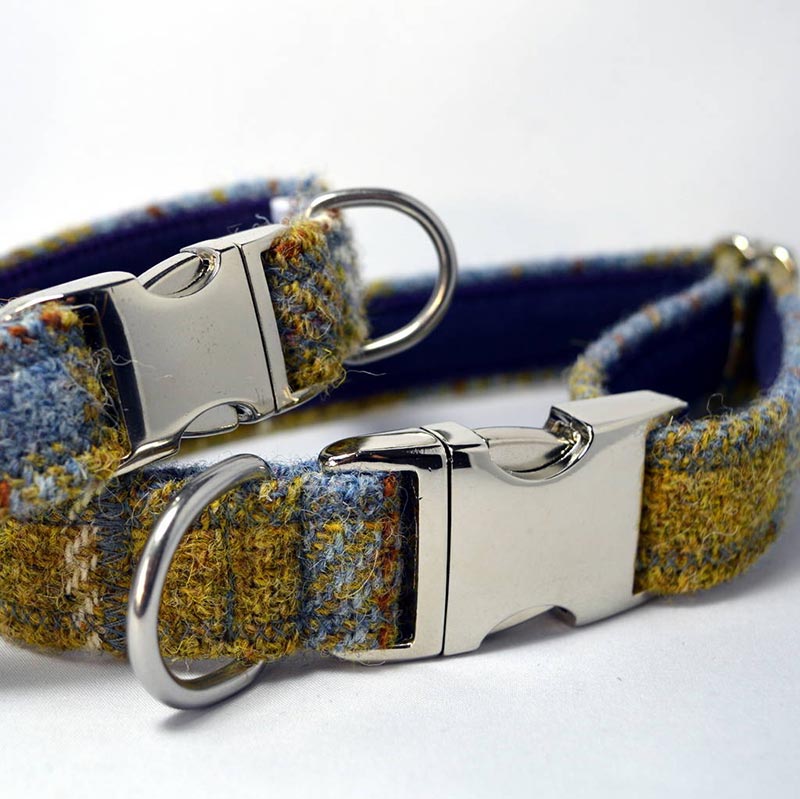 We haven't forgotten that your furry best friends deserve presents too. These quality Harris tweed dog collars are handmade in Scotland.
Want more inspiration for Scottish gifts and products?
We will be posting more Scottish gift ideas over the next few weeks, so sign up to our email list or follow us on social media so you don't miss out.