We're very excited to launch our new series of blog posts specifically for holiday business owners to help you promote and market your business to tourists. Our first post is a guest blog post by Karen Spencer who runs The Business of Holiday Rental. She helps holiday home owners create, market and grow their holiday home businesses. Karen shares some effective social media tips which are useful for any small business, not just those of you who have a holiday home rental business.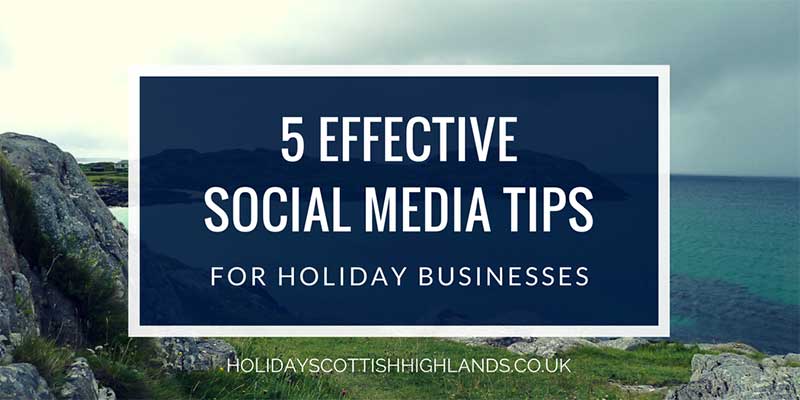 Know your ideal guest

Be clear on your target audience or ideal guest – what do they want from a holiday, what are they looking for in a holiday home. How can a holiday with you meet their needs. These are who you want your message to reach. These are the people your social media content is written for.

Mix it up

Vary your content. Use videos, images, text only posts, posts shared from others pages and embrace Facebook Live. We all have preferred ways to consume social media content. Varying your types of post ensures they reach more of your ideal guests effectively.

Focus on communicating not broadcasting

Posting on social media is about building relationships, reaching out to potential guests, nurturing contact with guests who have already stayed with you and building links with other local businesses. Talk to them, reply to them, share their stuff, post content you know your guests will be interested in. If all you talk about on social media is yourself, then they'll soon get bored and will switch off. Just as they would if you were having a face to face conversation.

Be consistent

It can be tempting to take to social media when your booking calendar needs filling and to not bother with it once it fills up. But to get results you need to show up regularly. No feast and famine. Set regular time aside each week to schedule content for the week ahead. Then go in daily, to your chosen platforms and engage with others. You only need allow 10 mins a day for this type of interaction but this is where the magic happens.

Numbers are vanity

You only have 52 weeks a year to sell. You don't need a huge number of Facebook followers to achieve this. Much better to have 100 followers who are likely to book with you sometime in the future, than 1000 who have no intention of staying with you. Quality of followers is sanity, numbers is vanity. So don't get hung up on the numbers. This is one of the most important social media tips.
Find out more about The Business of Holiday Rental
If you found Karen's social media tips useful and want more help with growing you holiday home business, Karen suggests you start on the Free Support page. Here you'll find resources written to help you grow your profitable holiday rental business, whether you're a newbie or have been going for some years. Karen is a holiday cottage owner herself. She worked for a holiday letting agency, has 10 years experience in the self-catering industry, is a home stager and a formal departmental coach. Combine all that industry knowledge, holiday home business know-how, corporate experience and training and you get The Business of Holiday Rental.
You can contact Karen directly on [email protected]
Holiday Scottish Highlands & Islands says…
Thanks to Karen for sharing these important social media tips in our new holiday business blog. If you want to connect with us on social media, we're on Twitter, Facebook and Google+.
Also, don't forget to add your business to our directory for free or maximise your exposure with one of our paid options.
Our business services
Check out the rest of the posts on our holiday business advice blog and don't forget to add your holiday business to our directory. See our business services page to see how we can work together to promote your business.