Review
There are some wonderful walks in the great wilderness of the Scottish Highlands. With such a huge expanse of coastline and countryside to explore you are best to take a walk book and a map. My favourite walk books are from the Pocket Mountain series.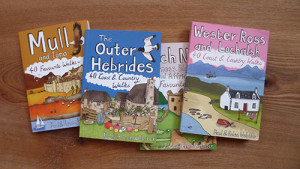 Pocket Mountains Walk Books
Pocket Mountains books are beautifully-illustrated walking guide books which are small enough to fit in your pocket. It was the colourful covers, illustrated by Vicki Gausden, which caught my attention in the first place. (I'm still very much like a child when it comes to bright colours!) These books are something different with a modern, contemporary feel to them. As well as covering highland walks, the range also covers areas of southern Scotland and England. Authors include Paul & Helen Webster and Keith Fergus.
Various walks are covered including coast, country, hill walking and walking the mountains of Scotland (also known as munros) with a range of difficulty levels. The book starts with an introduction covering things such as:
How to use this guide
Access and dogs
Wildlife
History and culture
Planning your visit
Public transport
The books are then divided into sections by geographical location and the start of each section has a basic map with numbers pinpointing the location of the walks and a list giving an overview of each walk. Each walk has a photo, basic map with scale, distance, time, terrain, the Ordnance Survey (OS) map you need and how to access the start of the walk. The instructions have a friendly and informal tone with points of interest and the odd historical fact thrown in. There is a light-hearted feel and I was pleased on one walk to see that the "crumbling remains of a once-loved vehicle which has been pressed into service as a seal information centre" was still there. They pack a lot into this little book and it's a good price at £6.99 so if you've never used one before, you should check one out.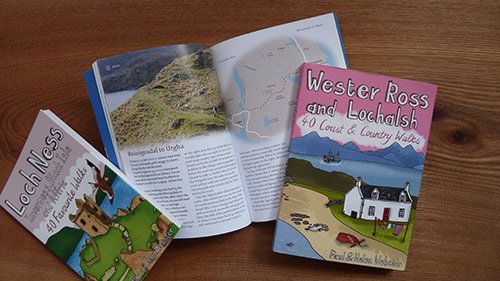 Books in the Pocket Mountains series for Highland walks
The series is growing and you can now get the following for the Scottish Highlands and Islands:
Aviemore and the Cairngorms
Caithness and Sutherland
Fort William and Lochaber
Isle of Skye
Loch Ness, Inverness, Black Isle and Affric
Moray
Mull and Iona
Oban and North Argyll
Where to buy Pocket Mountains books
I like to try and support local businesses when I'm on holiday so usually try to buy my copy from a local book shop or tourist information centre. (There are some wonderful independent book shops in the Highlands and Islands which are great for guide and local history books.) If you prefer to read up before you go on your holiday (planning is part of the excitement of going away), then you can buy these books from Amazon, the Pocket Mountains website.
What books can't you do without on your highland walks? Have you used the Pocket Mountains range?