Scottish Highlands coach holidays and tours
Want to explore the Highlands and Islands but don't want the hassle of driving? Scottish Highlands coach holidays could be your perfect trip. Sadly, Highland Heritage, Shearings and National Holidays are no longer in operation. Don't worry as there are still lots of options for coach trips from small, mini-bus tours to larger coach trips. Holidays are sometimes offered on an all-inclusive basis or half-board with accommodation in specially selected hotels. You can book a coach holiday to Scotland from England or join a tour in Scotland.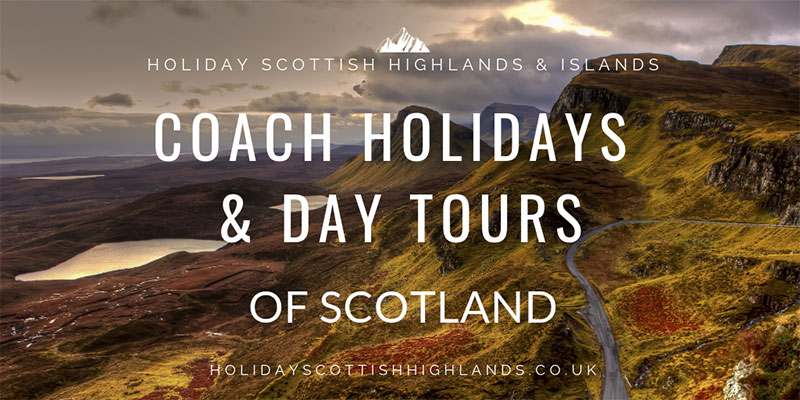 Alfa Travel Coach Holidays to Scotland
Alfa Travel run various coach holidays to Scotland from England. They have pick-up points across the country. Trips include historic cities such as Glasgow, Edinburgh, Aberdeen and Inverness. You can also visit Loch Ness, the stunning Isle of Skye, Fort William and the northern Highlands. Book and find out more
Just Go! Holidays coach and air holidays to Scotland
Just Go! have a smaller selection of holidays to Scotland but they do offer an island-hopping trip of the Outer Hebrides where you fly to Glasgow and then travel by coach. Book and find out more
Get Your Guide coach tours
Get Your Guide offer a range of coach tour operators with trips ranging from a few days to longer breaks. Departure points include Inverness, Glasgow, Edinburgh and more. From these easily accessible departure points, you can explore the Highlands, the Isle of Skye, the Outer Hebrides, Mull and Iona.
Rabbie's Tours
With Rabbie's Tours you can choose from a selection of 1-17 day tours. Decide whether you want to visit Scotland's most iconic landmarks, such as Loch Ness, the Highlands, or Skye. Or how about an island adventure exploring Orkney, Mull, and the Outer Hebrides?
Book and find out more about Rabbie's Tours
Not what you're looking for?
For more coach tours around the Scottish Highlands and Islands, check out our tour listings which also includes cruises and private day tours by car and coach.