What things should you take wildlife watching in the Scottish Highlands and Islands? Whenever I'm going wildlife watching I always pack the following wildlife watching gear so I can fully enjoy the wildlife of Scotland….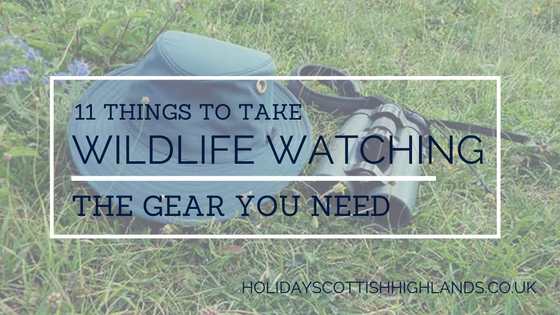 Sun hat
The weather can be glorious in Scotland. It can be hot and sunny and you can get sunburnt so a wide-brimmed sun hat is essential. In my opinion the best hats are Tilley hats. They're great quality, are guaranteed for life and come in various designs and fabrics. The thing that really makes these hats stand out for me is that they have two cords (one for under your chin and one for behind your head) to make sure your hat doesn't blow off. Scotland can be very windy so this is handy and great for sailing or when you're on a ferry or boat trip. I have three Tilley hats – a beige lightweight one for summer, a tweed one for winter and a blue lightweight one for summer just because I love blue.
Get your Tilley hat from Amazon, Cotswold Outdoors or Go Outdoors.
Sun cream
Even on a cloudy day, the sun can damage your skin so make sure you use sunscreen. I prefer mineral sunscreen to chemical sunscreen and I use Green People's SPF30 Organic Sun Lotion. Green People donate 30p from every sale to the charity, Marine Conservation Society. You can also buy Green People sun cream from Amazon.
Check out different sun cream options available on Big Green Smile, Amazon and Boots.
Polarised sunglasses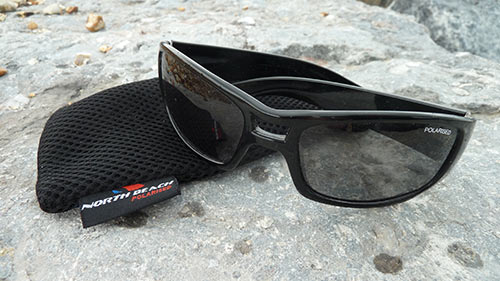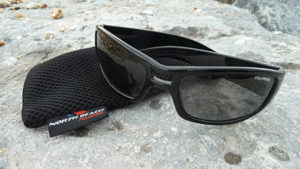 If you want to look at wildlife in the sea or any kind of water such as lochs and rivers, then polarised sunglasses are a must. They reduce glare on the water which improves your chances of spotting wildlife underwater. Great for watching those bow-riding dolphins! I recommend a sports wrap around style which provides your face and eyes with more protection and improves your vision by blocking out the sun from the side. I have a great pair of North Beach polarised sunglasses. They no longer seem to make the model I wear but have lots of other designs.
Get your polarised sunglasses from Boots, Amazon, Cotswold Outdoors or Go Outdoors.
Wildlife guide books
Depending on the area you're exploring and what you're interested in, you may want to take a few small wildlife guide books such as:
You may also be interested in…
Wildlife apps
If you prefer your wildlife guide on your mobile phone, my partner recommends these apps:
Collins Bird Guide App
Collins Bird Guide is probably the best bird field guide for Europe and lists over 700 species. It's useful casual birdwatchers as well as more experienced birders. The app, like the book, is beautifully illustrated and easy to use with an intuitive design.
The app is only available for iPhones and iPads at the moment from the iTunes store.
We also like to keep a copy of the book in the car in case your phone battery is running low and sometimes it's just nice to look at something bigger. The Collins Bird Guide book is available from Amazon and NHBS.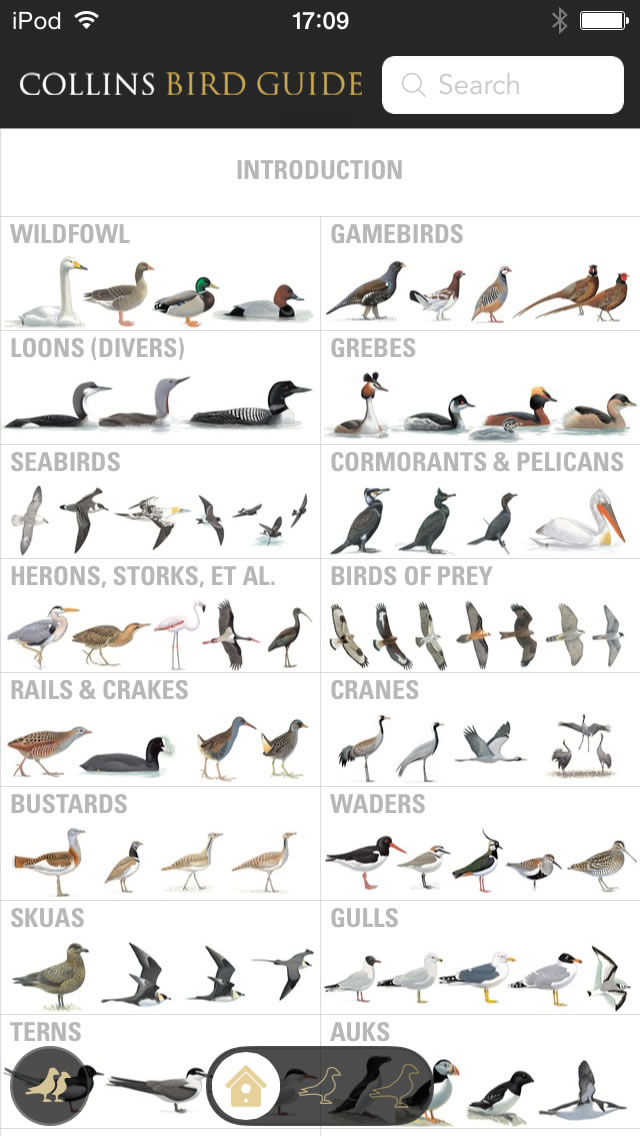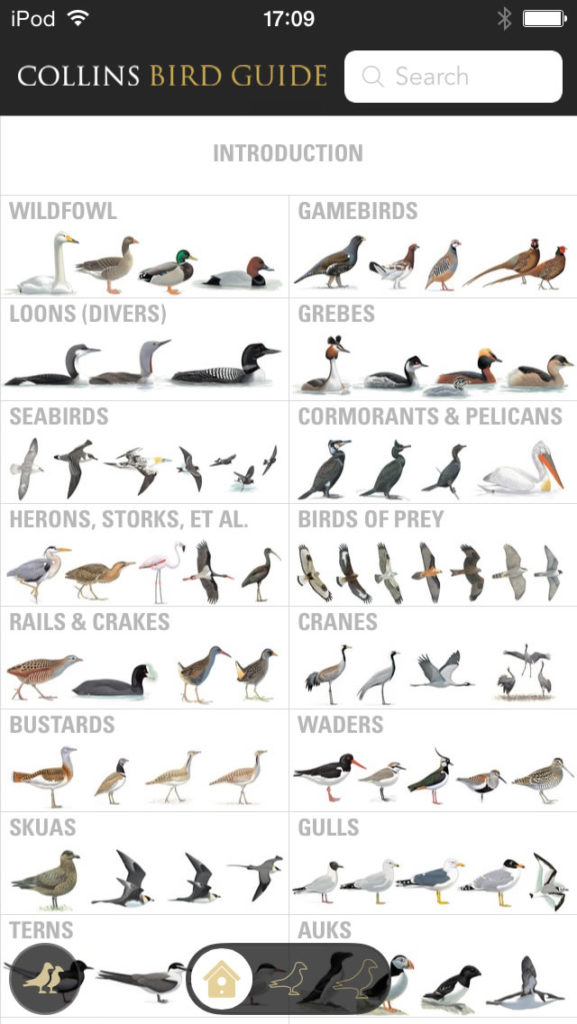 Butterflies of Britain and Ireland App
This app is very similar to the Bird Guide app but obviously is about butterflies. Find out more on the iTunes website.
Binoculars
OK, my binoculars aren't actually packed in my rucksack. They are pretty much hanging around my neck ready for action from the start of my holiday until I leave the wilds of Scotland. Oh and I don't sleep in them. They give you the chance to view even more amazing wildlife so I recommend getting yourself a pair. They cover a wide range of prices so I suggest you have a budget in mind and then go along and try some out. Many RSPB places or nature reserves sell binoculars that you can try out. I think it's useful to test them in the environment that you're going to be using them in, rather than a shopping centre.
You could pick up a pair for around £20 if you want, spend £1000s or something in between. If you're looking at higher end binoculars, we really like Swarovski optics and their customer service is excellent. My first pair of binoculars were from Bushnell and cost about £175. I thought they were good value for money but as I started to use my binoculars more and more I decided to invest in a better quality pair from Swarovski.
Check prices of binoculars on Amazon and Wex Photographic.
Camera
It seems that more and more people are roaming around the Scottish Highlands and Islands with huge lenses but I prefer my little point and shoot camera. It's small and compact so easily fits into my rucksack or I can wear it round my neck. I have a Panasonic TZ10 which I love. It does everything I need and a lot more that I haven't got to grips with! It's now been superseded by newer models and the latest one seems to be the Panasonic TZ60. I always ensure I have spare SD cards and a spare fully-charged battery with me too because there are always so many stunning photos to be taken that I don't want to miss out on capturing a beautiful image. I normally buy my SD cards and batteries from Amazon. Another thing I carry with me is a Gorrillapod Tripod. This is a compact, lightweight tripod with bendy legs so you can adjust the legs and wrap it round branches to get that perfect shot.
Insect repellent
As I've written about in my post Midges in Scotland & how to prevent midge bites, I recommend carrying a few different types of insect repellent. Two of my favourites are:
Incognito – Less Mosquito 100% natural insect spray protection – available from Big Green Smile and Amazon
Smidge that Midge – available from Amazon
Midge hood
Whilst we're on the subject of insects and midges, I always keep a midge hood in my backpack, just in case. They are small and lightweight so don't take up much room. You might want to check out our post on how to avoid midge bites too.
Amazon have a range of midge hoods and jackets
Water bottle
Once we went out for a wander which was supposed to take about half an hour. We returned four hours later because we came across an otter and then a white-tailed eagle and then investigated some rock pools. If you've been to the Scottish Highlands and Islands, then you've probably had similar experiences. Since then I always like to take water with me. The best water bottles are stainless steel insulated ones such as this Cayman Fitness Insulated Stainless Steel Water Bottle. It keeps cold liquids cold for 24 hours without any condensation on the outside of the bottle and hot liquids stay hot for 12 hours so it's great for any season and for long days out.
Waterproof trousers
Waterproof trousers are fantastic when you're in Scotland. Obviously you can use them when it's raining, but I'll also pop mine on if I've got cold legs as an extra layer especially when it's windy or when I want to sit on damp ground. I have a cheapish pair from Regatta which are compact and light enough to carry around in my rucksack. I do recommend that you get breathable ones though as you don't want to get hot and sweaty.
What do you take with you when you go wildlife watching?
I bet there are brilliant things that you take which I haven't even thought of. Please share your tips in the comments below.
Looking for holiday accommodation in the Scottish Highlands and Islands?
Check out our accommodation section.