Here's tips on the best midge repellent for Scotland (and the UK) plus the best midge nets. We also give you tips on how to prevent midge bites and how to stop midge bites itching. Don't let the midges in Scotland stop you from enjoying the Scottish Highlands and Islands. We share the dates of midge season in Scotland, the best time to visit to avoid midges and how to keep midges away when sitting outside. Last year was particularly bad for midges in Scotland and it became quite hard to get hold of some popular midge repellents. Make sure you stock up on midge protection early for 2022.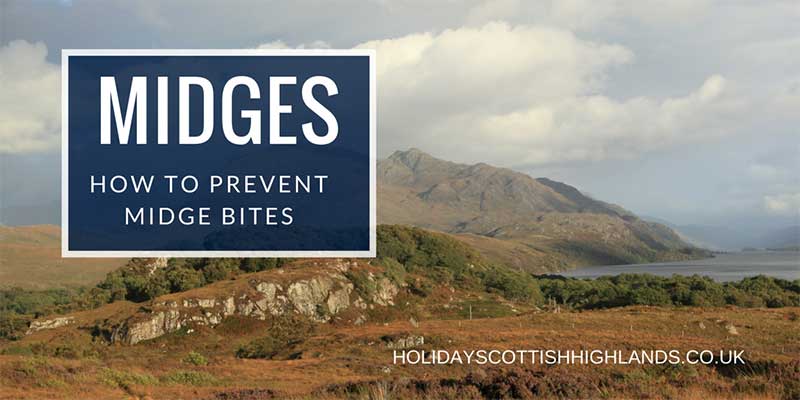 Best midge repellent for Scotland & UK
In our experience the most effective midge spray is Smidge insect repellent (also available from eBay) and in a handy pocket version from eBay or Amazon. Smidge say this is also effective against ticks which you should also take precautions against because of the risk of Lyme disease.
We also use Incognito insect repellent which we also spray onto our clothes to help protect against ticks.
Another popular choice is Avon Skin So Soft Original Dry Oil Body Spray (also available in a pack of 3).  If you prefer a DEET insect repellent, you could try Jungle Formula Insect Repellent Spray Pump.
We give you more insect repellent suggestions below and the great thing is that they might also work on mosquitoes, horse flies, ticks, sandflies, gnats and more.
If you want an insect repellent candle, these all have good reviews on Amazon – The Wee Midgie Lavender and Bog Myrtle Candle Tin for Midges & Mozzies, La Jolie Muse Citronella Candle comes in a pretty tin, there's the La Bellefee Citronella Candles Set or this set of 12 in small metal buckets.
Midges are repelled by:
Saltidin (also known as Icaridin and Bayrepel)
citronella
thyme
DEET
DMP
We prefer to use insect repellents which don't contain DEET or DMP. Although DEET and DMP are more effective than non-DEET or natural insect repellents, they are capable of melting some plastics (such as credit cards, glasses and synthetic clothing) and that isn't really something we want to put our skin. As non-DEET insect repellents seem to work fine for midges, we don't find them necessary.
Best midge repellent for Scotland: Smidge review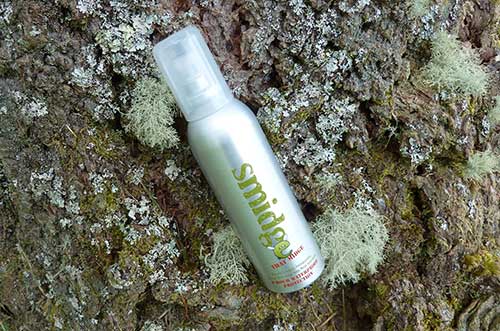 We've been using Smidge insect repellent for about 5 years now and find it to be very effective against the wee beasties.
The active ingredient is Picaridin (also known as Saltidin). The WHO, Health Protection Scotland and Public Health England recommend Picaridin for effective protection against biting insects. It was developed as a safer alternative to DEET and smells and feels much more pleasant than any DEET products I've tried.
Apply Smidge before you get attacked and it should stop the midgies biting. It has such a lovely fragrance that I'd even wear it as a perfume! But any midges or insects that land on you will think you taste disgusting.
Smidge comes in a pump spray and is like a moisturising milk or lotion which you apply to your skin.
Protection for up to 8 hours
Water and sweat resistant
Repels midges, mosquitoes, horse flies, sand flies, fleas and ticks
Safe for use on adults, children over 2 years and pregnant women
DEET-free – Safe alternative to DEET and won't melt your plastic gear
Moisturising milk formula with lovely fragrance for an insect repellent
Recommended by the World Health Organisation
Scientifically proven in Scotland
Comes in a lightweight metal canister
Alcohol-free
More info and to buy
Avon midge repellent: Skin So Soft Original Dry Oil Body Spray with Jojoba
Avon Skin So Soft is not advertised as a midge repellent but it's well-reported that it's effective as midge protection in Scotland. The Royal Marines are said to use it when they're in Scotland. It's widely available to buy from Amazon and other online retailers.
Badger Anti-Bug Balm (Organic) review
This is another of our favourites to keep midges away. This "USDA Certified Organic – All Natural Mosquito Repellent" comes in a small metal tin so can easily fit in a pocket or small bag. As you'd expect with a balm, a little goes a long way so it lasts for ages and is another great-smelling natural product.
Certified organic and 100% natural DEET-free insect repellent.
Independently lab tested to repel mosquitoes and stable flies.
Suitable for use by the whole family.
Petrolatum-free.
Uses organic and all-natural citronella, cedar, and lemongrass essential oils.
Find out more and to buy
Lifesystems Lifesystems Natural 30+ Repellent Spray
We haven't tried Lifesystems Natural 30+ Insect Repellent Spray but I like that it's another natural insect repellent.
Formulated from a blend of natural plant oils derived from the Lemon Eucalyptus plant.
Active ingredient Citrepel®75 is proven to repel midges, ticks, horseflies, mosquitoes, sandflies and gnats.
Includes natural pyrethrum to act as a bite inhibitor.
Each application lasts for up to 8 hours. Re-application may be required in areas with high temperature and humidity.
Durable aluminium bottle with pump-spray top.
Find out more and to buy
Lifesystems Midge & Mosquito 50 Insect Repellent
Lifesystems also have a product formulated especially for midges which contains myrtle extract and DEET.
Find out more and to buy
A. Vogel Herbal Insect Repellent (Neem oil insect repellent)
I first bought this from a little natural health shop in Tobermory. This was the first natural insect repellent I ever bought and I was really pleased with the results. As I mentioned before, it did deter them but didn't seem to work all the time so I ended up trying some other things too. I do think it's worth trying though and there are some good reviews.
Repellent for insects such as mosquitoes, flies and midges
Made from Neem seed extract
Does not contain DEET
Won't damage clothing or spectacle frames
Suitable for children
Plastic spray bottle
Find out more and to buy
Incognito – Less Mosquito 100% natural insect spray protection
100% natural
Protects against all biting and stinging insects including ticks
Can be sprayed on clothes and skin
Paraben-free
GMO & detergent free
Not tested on animals and Vegan Society registered
Non-greasy with a pleasant fragrance
Incognito have a wide range of insect repellent products including suncream, body wash, lotion, roll-ons and incense sticks.
Buy from
Insect repellents containing DEET
Products containing DEET on Amazon include:
Best midge net for Scotland
We also recommend carrying a midge head net (also known as a midge hood). We have Smidge head nets which we wear over our Tilley hats. If you haven't got a hat then this clever design combines a hat with a midge net to hold the net away from your face and is popular on Amazon.
Best midge nets and midge hoods
Everyone should invest in one of these as they will prevent midge bites to your face and neck. I always carry my midge hood in my rucksack and wear it over my trusty Tilley hat. They are cheap, and so useful, even if you look a bit of an idiot. Being small they take up very little room in your rucksack or you can pop it in your pocket. They usually come in their own little pouch so you can easily clip it onto your bag, coat or belt with a carabiner. Being made of fine mesh, they weigh very little so you won't even notice you're carrying one.
Midge hoods can be bought in local shops in Scotland or you can buy them online from:
When buying a midge hood or midge head, you need to ensure that the mesh or netting has been specifically made for midges so it's fine enough to stop the wee beasties. Some mosquito nets are too coarse and won't stop midges.
Insect repellent candles for outdoors – how to keep midges away when sitting outside
Midge season in Scotland – the best time to avoid
If you want to know when is the best time to visit Scotland to avoid midges, you need to find out when is the midge season in Scotland.
What month are midges in Scotland?
Adult midges in Scotland start to come out in April and they are active on the wing until October. There are often two peaks in emergence during this period which are the worst months for midges in Scotland so these are the best times to avoid – one in late May/early June and the second in late July/early August. It is dependent on the temperature so it could start a bit earlier or end slightly later. By early autumn midge numbers start to decrease, which is why September and October are good times to visit Scotland.
In saying that we've been on holiday in the Scottish Highlands and Islands during these peak midge times and it hasn't stopped us going back year after year.
How to avoid midge bites
The best method to stop being bitten in the Highlands is to use a repellent and to recognise the conditions when midges are likely to be most active and avoid going out in them.
Top tips to prevent midge bites
Cover exposed skin – midges have short mouth parts so can't bite through material although they will crawl under clothes.
Use insect repellent. Below we list some of the best insect repellents you may want to try. Our favourite is Smidge (Amazon).
For extra protection get a Cinvo Head Net.
On still summer evenings, try to avoid being outside.
Be aware that calm, windless days and dull days are likely to be more midgey – midges stop flying in wind speeds greater than about 6mph.
If you encounter midges, keep walking as they can't fly as fast as you can walk.
Wearing light-coloured clothing may attract fewer midges as, like goths, they seem to prefer dark colours.
Avoid breeding sites (wet, boggy areas) or at least keep up-wind of them.
Get to higher ground as midges are less common above 700m.
Midge bites treatment: How to stop midge bites itching and how to get rid of midge bites
Bite relief cream
To stop a midge bite itching, try using a specific bite and sting relief product such as hydrocortisone cream, an antihistamine cream like Anthisam Bite and Sting or After Bite Insect Bite Remedy from Amazon.
Bite click relief
Amazon has a range of products to stop midge bites itching which are also effective for relief from other insect bites, such as horse flies and mosquitoes. Although I don't normally react to midge bites, I do tend to have a bad reaction to mosquito bites and my must-have bite treatment is a bite click relief zapper (Amazon) which I find works really well at reducing swelling and itching. There's also an electronic bite relief device which has received good reviews on Amazon.
Herbal and plant remedies to stop midge bites itching
To stop midge bites being itchy, you could also try herbal and plant remedies such as:
Worst place for midges in Scotland
Midges can be a serious nuisance. The worst places for midges are the areas where you'll find their preferred habitats  such as wet, boggy, sheltered areas. These places include the north and west coast of Scotland and in the Highlands like Fort William, Glen Coe and the Great Glen.
Generally, the east coast tends to be more midge-free.
Scottish midge facts
What are midges?
Midges (also called gnats) are tiny flying insects and the Highland midge (Culicoides Impunctatus) is the one that causes issues, particularly in Western Scotland and the Highlands.
Why do midges bite?
It is only the female midge that bites. When female midges emerge they have built up enough fat reserves as a larva to lay their first batch of eggs. To mature more batches of eggs than this initial batch, the female midge needs a blood meal.
Male Highland midges are vegetarian and eat plant nectar so won't bother you.
Biting midges are normally about 2 mm long
Female midges are only active in low light so the most active period tends to be the two hours before sunset
They are an important part of the ecosystem and are food for other animals such as bats and birds
Midges don't transmit diseases to humans in the UK
Midges lay their eggs in wet soil in boggy, wet areas where there is normally Sphagnum or purple moor grass
Help your friends
If you're being bitten by midges, then your friends and family probably are too. Why not help them out by sharing this post with them using the simple share buttons?
It is worth mentioning that however annoying these pesky Scottish midges can be, they are not such a serious threat to your health as ticks which can give you Lyme disease. Please make sure you read our post about Lyme disease too.
Read: What is Lyme disease & how to avoid tick bites in humans
Midges in Scotland – Our advice
Don't worry too much about the midges in Scotland and don't let them put you off visiting this beautiful country. Midge bites don't irritate me as much as mosquito or cleg (horse flies) bites and as midges don't transmit disease to humans, I'm more relaxed about midges. We generally find it's too windy for midgies most of the time anyway! When you go out and it isn't that windy, carry a couple of different natural insect repellents and a midge hood and hopefully, you should be fine.
What are your best products for repelling midges in Scotland? What's your advice for avoiding midge bites? Please post in the comments below.
Note that all items reviewed on this page are the opinion of Holiday Scottish Highlands and Islands and your experience may be different.
Updated: May 2022