Don't let the midges in Scotland stop you from enjoying the Scottish Highlands and Islands. Here's tips on how to prevent midge bites, midge repellent reviews plus how to stop midge bites itching.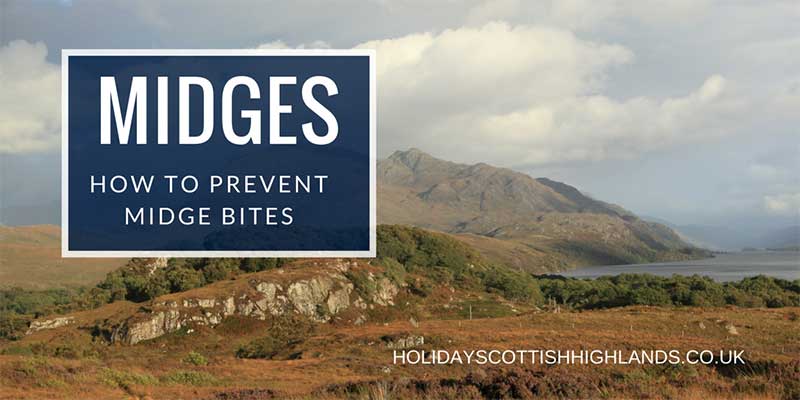 It is worth mentioning that however annoying these pesky Scottish midges can be, they are not such a serious threat to your health as ticks which can give you Lyme disease. Please make sure you read our post about Lyme disease too.
Read: What is Lyme disease & how to avoid tick bites in humans
Scottish midge facts
What are midges?
Midges (also called gnats) are tiny flying insects and the Highland midge (Culicoides Impunctatus) is the one that causes issues, particularly in Western Scotland and the Highlands.
Why do midges bite?
It is only the female midge that bites. When female midges emerge they have built up enough fat reserves as a larva to lay their first batch of eggs. To mature more batches of eggs than this initial batch, the female midge needs a blood meal.
Male Highland midges are vegetarian and eat plant nectar so won't bother you.
Biting midges are normally about 2 mm long
Female midges are only active in low light so the most active period tends to be the two hours before sunset
Midges are an important part of the ecosystem and are food for other animals such as bats and birds
Midges don't transmit diseases to humans in the UK.
Midges lay their eggs in wet soil in boggy, wet areas where there is normally Sphagnum or purple moor grass
Midges are not the same as mosquitoes
Mosquitoes are sometimes confused with midges but mosquitoes are much larger insects. You may come across mosquitoes in Scotland but there aren't as many as the midges.
Midge season in Scotland – the best time to avoid
If you want to know when is the best time to visit Scotland to avoid the midges, you need to find out when is the midge season in Scotland.
What month are midges in Scotland?
Adult midges in Scotland start to come out in April and they are active on the wing until October. There are often two peaks in emergence during this period which are the worst time for midges in Scotland so these are the best times to avoid – one in late May/early June and the second in late July/early August.
In saying that we've been on holiday in the Scottish Highlands and Islands during these peak midge times and it hasn't stopped us going back year after year.
How to avoid midge bites
The best method to avoid being bitten in the Highlands is to use a repellent and to recognise the conditions when midges are likely to be most active and avoid going out in them.
Top tips to avoid midge bites
Cover exposed skin – midges have short mouth parts so can't bite through material although they will crawl under clothes.
Use insect repellent. Below we list some insect repellents you may want to try.
On still summer evenings, try to avoid being outside.
Be aware that calm, windless days and dull days are likely to be more midgey – midges stop flying in wind speeds greater than about 6mph.
If you encounter midges, keep walking as they can't fly as fast as you can walk.
Wearing light-coloured clothing may attract fewer midges as, like goths, they seem to prefer dark colours.
Avoid breeding sites (wet, boggy areas) or at least keep up-wind of them.
Get to higher ground as midges are less common above 700m.
Midge nets and midge hoods
If you're still getting attacked, then bring out the midge net. I always carry my midge hood in my rucksack and wear it over my trusty Tilley hat. Everyone should invest in one of these. They are cheap, small to carry around and so useful, even if you look a bit of an idiot. Midge hoods can be bought in local shops or you can buy them online from:
Midge repellent
The bad news is that we have yet to find a midge repellent that works all the time on every occasion. Once on the Isle of Mull, on getting out of the car at a viewpoint we were attacked by midges. We applied insect repellent and the midges disappeared. On our next stop a few miles down the road, the midges weren't affected at all by the same midge repellent. Maybe certain "groups" of midges in Scotland are unaffected by some products but I'm not a scientist. Scottish Natural Heritage (SNH) say that:
Repellents are effective but not perfect: they will only reduce the numbers of bites.
The good news is that I have found a few insect repellents that do work some of the time on the midges in Scotland.
Midges are repelled by:
We prefer to use insect repellents which don't contain DEET or DMP. Although DEET and DMP are more effective than non-DEET or  natural insect repellents, they are capable of melting some plastics and that isn't really something we want to put our skin.
Smidge that Midge review