Victoria Harvey's career in tourism has seen her work all around Scotland and she currently  works at the Calanais Visitor Centre. She tells you why you should "stop for that wee sign you see" and gives you tips on things to do on Lewis and Harris.
About me
So hello everyone! I am a 27 year old city girl turned aspiring Hebridean and I have to say I am LOVING it! I have worked in the Scottish tourism industry for around 10 years now and being able to mix my career with my favourite place in the world is so rewarding. I am currently the Project Development Officer at the Calanais Visitor Centre, we are going through a major redevelopment to modernise and expand the visitor centre which promotes those iconic stones, and I am lucky enough to be part of a team of two developing it!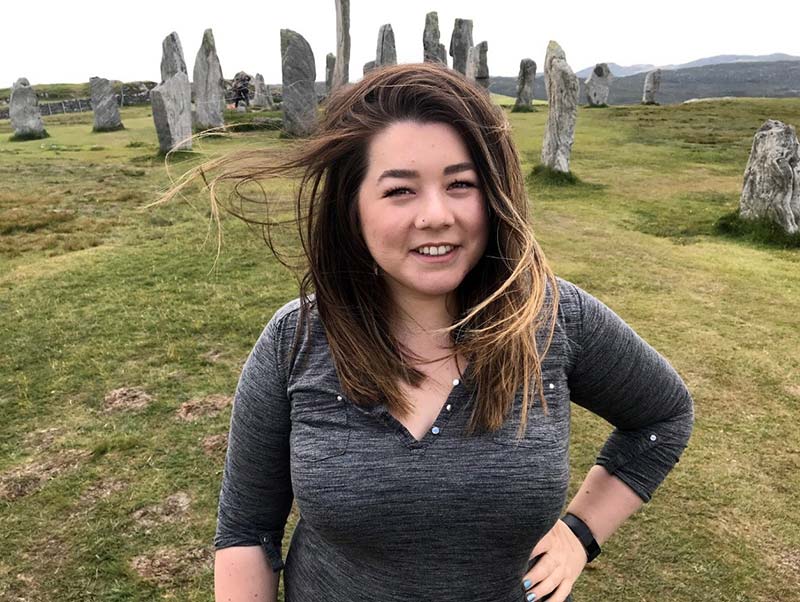 I was originally entranced by the Outer Hebrides when I sold holidays across Scotland, those beaches could not be real surely?! I visited here for the first time in a stormy October and then moved here the following year. Back then, I took a fantastic job with Outer Hebrides Tourism which saw me develop the Eat Drink Hebrides trail which I cannot recommend enough for all of you foodies visiting the islands.
Interests
Apart from work, I like to mooch around on beaches and am a bit of an amateur photographer. Island life is always varied and a good summer's day makes up for our long winters. I live in Stornoway in a house share with 8 other people (did I tell you I was living the dream? 😉 ) which has so far been hilarious and eye opening! My family pup, Bear visits me in Lewis often, he is far too cute not to share!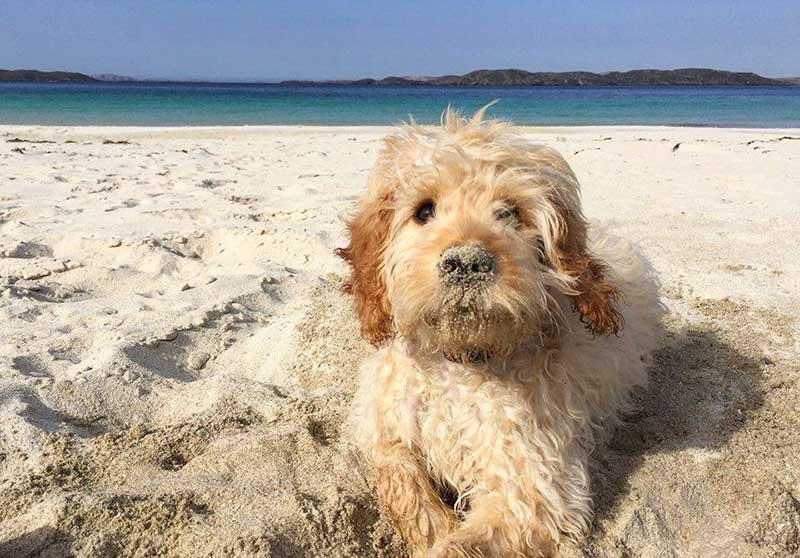 Where do you live?
I live on the Isle of Lewis in the stunning Outer Hebrides. I am originally from Cumbernauld and have lived here since 2015 on and off – I couldn't think of a better place to be!
Favourite beach
This is a difficult one! I have several favourites on Lewis and Harris and it is all dependent on the situation – for views Bosta Beach on Great Bernera and Reef Beach are my two favourites. I am also a dafty that likes to swim in the Atlantic every now and then and my favourite beach for that would again be, Bosta Beach or Horgabost down in Harris. The best for sunsets, I would say is Dalmore or Mangersta.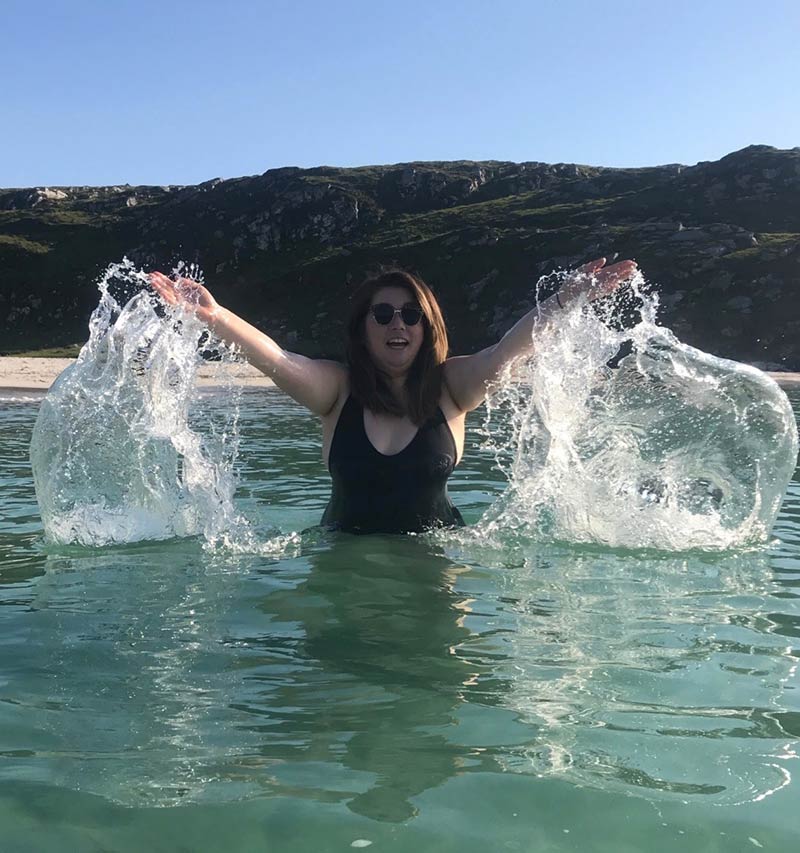 Best walk
My favourite walk on Lewis and Harris has to be the walk in Northton out to Rubh an Teampaill. It is a lovely, beach-y walk over the machair and with stunning views out to Berneray and North Uist. I've been told by many friends that it is a great place to spot dolphins as they pass through the Sound of Harris, so there's another reason to go! If the sea is swelling but the weather is still fair then the walk from the Butt of Lewis to Europie in North Lewis is amazing and it makes you appreciate how much of a battering the Outer Hebrides takes with the weather and sea.
Most special time of year on Lewis and Harris
I think that the Outer Hebrides is full contrasts and this is especially prevalent in our seasons. I love our long summer days, contrary to popular belief we actually enjoy quite a lot of sunshine here (I have jinxed it now, haven't I?) it is also when the island fills up with visitors enjoying our beautiful landscapes. I love the hectic-ness of July in Lewis when we welcome Celtic music fans for HebCelt. Stornoway turns into such a vibrant place and I really can't recommend the festival enough! However, the most special time of year for me creeps across the autumn and winter months where we see much more extreme weather. I love watching the Atlantic break off of the cliffs – from a safe distance of course!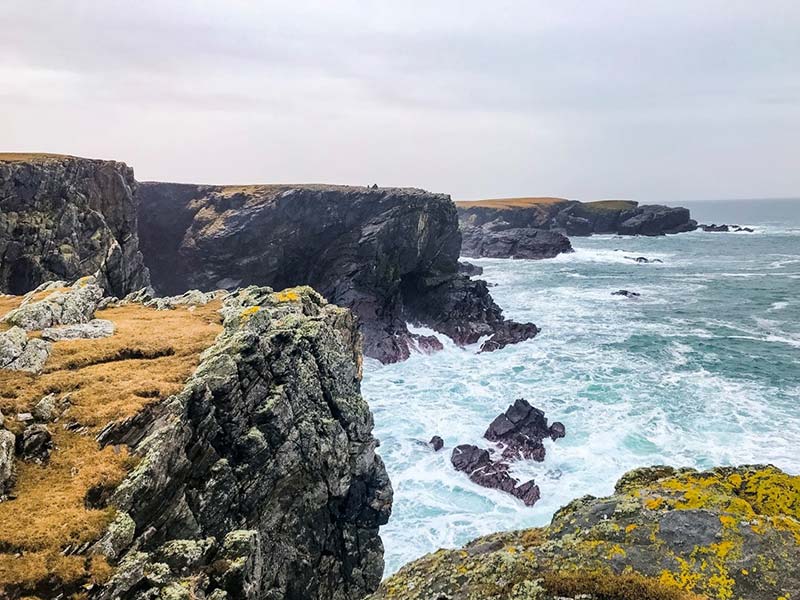 Lewis and Harris – The one thing every tourist should do
Eat and shop locally. This goodwill has obvious benefits for the island economy but with so many independent craft and food and drink producers, the best wee stops are often found in the most unlikely places. So do stop for that wee sign you see or pop into the cafe! Also visit me in Calanais of course, we have a unique Neolithic landscape which is unique and as important as Neolithic Orkney and Stonehenge so do come and explore! Always have a yarn with some locals, especially if you are looking for things to do in the area and Hebridean hospitality is renowned.
Your best wildlife encounter
There has been so many. I frequently see eagles (white tailed and golden) – never did I think I would be saying that in such a blasé way! – and watching them fish on Loch Roag has been a truly special experience. Although seals are plentiful around the coast of Scotland, they are always the most special sightings for me. I once watched an otter mum walking around with her babies in the Port of Ness and then swim out to the open sea – hopefully not too far though!
Favourite road or drive
My favourite drive is the one out to Hushinish in the Isle of Harris. Not for the faint hearted, third gear and a slow speed will get you there, and once you are at Hushinish the beach and highland coos have made your journey so worthwhile! I would also recommend a stop in to Amhuinnsuidhe Castle as they have an honesty shop there which is usually full of yummy things like their own venison and smoked salmon.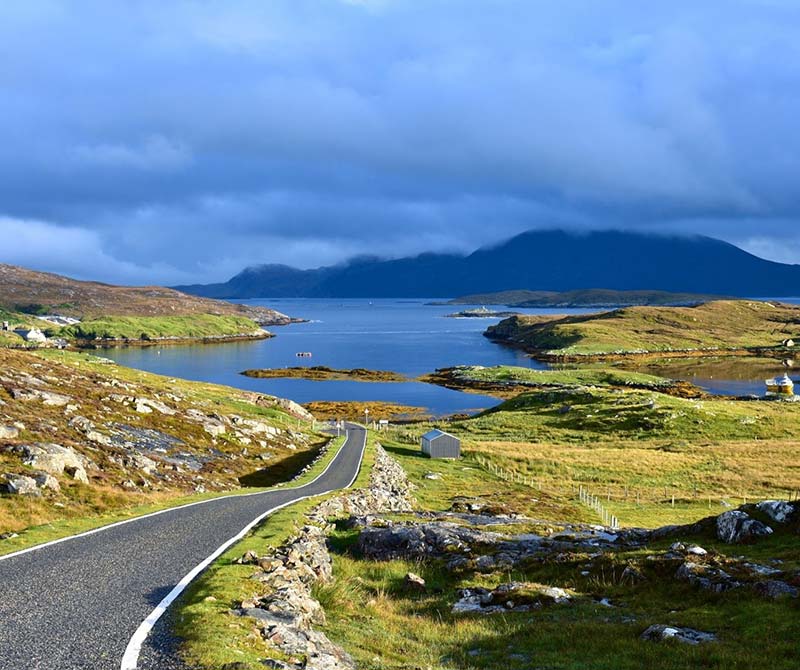 Favourite place to eat and drink
My favourite place to eat on Lewis and Harris is Scalpay Bistro, some of the best food on the island but book ahead! There's loads of really lovely restaurants in Stornoway – Digby Chick, HS-1 and Cameron's Chip Shop are all worth a look in! Sitting with a Cameron's chippy at Stornoway harbour is one of my favourite things. Another great place on Lewis and Harris is the Scallop Shack in Miavaig. I try to spend most of my weekends over in Uig so always stop in for an oyster on the way past. Also grabbing a pack of hand dived scallops and having them on the BBQ later is so so so YUMMY!
Holiday Scottish Highlands & Islands says…
Callanish Standing Stones should definitely be on your list. I didn't realise until we visited there this year that there are some smaller stone circles nearby to explore too. My boyfriend is a huge seafood fan and he was a regular customer at Dave's Scallop Shack. He also loved the mussels he bought from there.
As Victoria says, it's great to shop and eat locally. The local businesses will appreciate it and you can pick up some special mementos of your holiday or taste some delicious food.
Find out more about Victoria and Calanais (Callanish) Visitor Centre
Please drop me a message if you are planning to come and visit the Outer Hebrides and hopefully I can bring you some island inspiration over on my Instagram –
instagram.com/victoriaharvey_
Also, if you would like to keep up to date with the Calanais Visitor Centre project then give us a like on Facebook and you can see all of our exciting plans!
facebook.com/callanishcentre
Photos: © Victoria Harvey
Enjoyed this post?
Please share it with your friends using the social media sharing buttons on this page.
Plan your trip to Harris and Lewis
Check out our listings for the Outer Hebrides including
accommodation on Harris and Lewis
. The "Outer Hebrides: The western isles of Scotland, from Lewis to Barra" (Bradt Travel Guides (Regional Guides)) is the only full guide to the Outer Hebrides so definitely worth buying. You can
get it from Amazon
.
Want more local tips for the Outer Hebrides?
If you want more insider knowledge we have lots more locals and Scotland enthusiasts sharing their advice about
what to see in Scotland
including:
Also check out these amazing photos of Harris –
Christopher Swan: Harris In The Spring
 and Sean Kerr's
The Wonder of Harris photography art exhibition