Catriona lives in Loth, Sutherland where she runs Culgower House B&B. She has taken some time out to give her suggestions for things to do in Sutherland, Scotland.
About me
My husband John and I run Culgower House, a lovely, tranquil B&B between Helmsdale and Brora on the coast of East Sutherland. We live with our son Murdo, a varying number of chickens, sometimes pigs, and are in family negotiations about another dog.

How long have you lived here?
We headed back north in 2003, seeking an alternative to the fairly manic professional lives that we were living. I'm from Edinburgh and John's family is from Ross-shire though we travelled and lived in many places both as children and adults. We've had great fun, and a few tears of frustration, restoring the house and garden to something close to its former glory.
Favourite beach
A toss up between two. Culgower beach, just a couple of fields away from the house, beautiful stretch of golden sand, often no-one else there, sometimes seals, views across the firth to the Moray coast, stunning whatever the weather. The other is Brora beach, park at the golf course and nip over the first green to the beautiful, sandy beach, fantastic views to the north.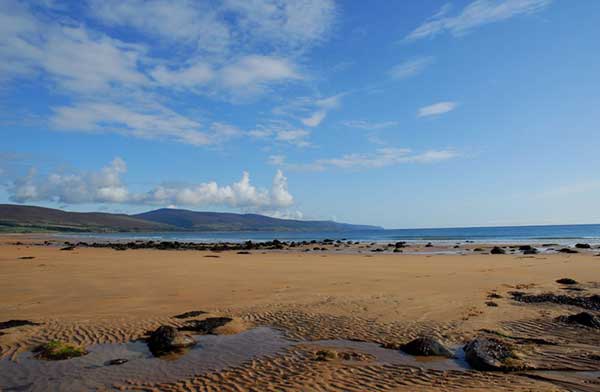 Best walk
Two, the first across the fields to the beach at Culgower, it's so beautiful and quiet. The second is the Big Burn walk near Dunrobin Castle, through the woods to the waterfall then down the gorge, criss-crossing the burn on footbridges.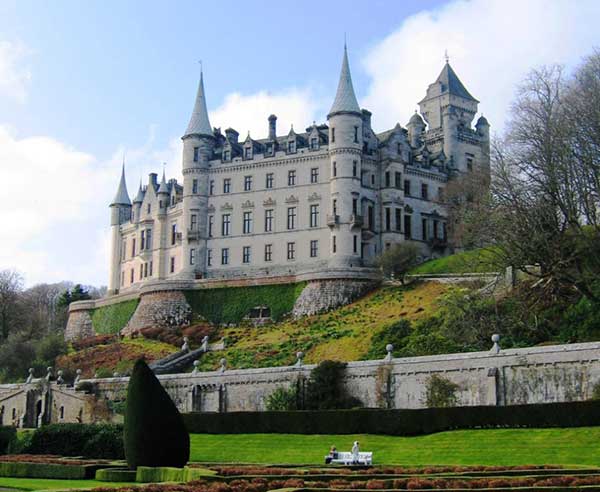 Most special time of year where you live and why
Each season has its special attributes, but early spring is probably the favourite, walking on a blustery beach, looking back to hills with snow patches and seeing the trees begin to green.
Things to do in Sutherland – The one thing every tourist should do
Too many to choose, as a minimum try a castle (Dunrobin Castle in Golspie), a distillery (Clynelish Distillery in Brora), and a museum/art gallery (Timespan in Helmsdale).
Your best wildlife encounter
Watching dolphins play off the beaches in Brora and at Crakaig.
Favourite road or drive and why
The Glen Loth / Helmsdale loop. A couple of miles south of the house you can turn inland into Glen Loth which cuts north through the hills and then down towards the Strath of Kildonan. A tumble-down broch, occasional standing stones, a roofless croft house and stone sheep pens, red deer, buzzards and if you're lucky an eagle. Hill, pasture, the Helmsdale river, the village, harbour and sea views all in one 26 mile loop, it just sums the area up.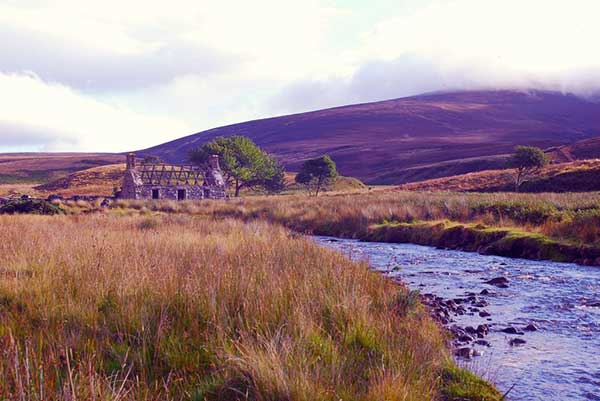 Most loved view and why
Out of the windows at home, fields, beach, sea, sunrises.
Favourite place to eat and drink
La Mirage in Helmsdale, we love their huge portions of tasty fish and chips but if you can give 48 hours notice they produce a wonderful seafood platter as well. Wherever you eat, try a beer from one of the North Highland's small breweries.
Holiday Scottish Highlands & Islands says…
Thanks to Catriona for sharing her tips on things to do in Sutherland. A fairy tale castle, dolphins, fish and chips and real ale – sounds like the perfect holiday to me.
Find out more about Culgower House B&B
www.culgowerhouse.com
www.instagram.com/culgowerhousebnb
www.facebook.com/CulgowerHouse
www.twitter.com/CulgowerHouse
Plan a trip to Sutherland & Caithness
Holiday accommodation in Sutherland & Caithness
See our directory for holiday accommodation in the Scottish Highlands & Islands.
More local tips for things to do in Sutherland & Caithness
See all our local tips for what to see in Scotland's Highlands & Islands