Lori shares her top tips for things to do near Broadford, Skye and the local area. Lori has loved Skye since she was a young girl and moved to her beloved isle after illness meant she wanted a slower pace of life. Lori and her family now run a cosy self-catering cabin with wonderful views of the estuary. Read on for ideas of some stunning places for wild swimming, walks with breathtaking views and places to eat.
About me
I'm Lauren Jones, but folks know me as Lori. We live in a wee township, Lower Breakish, on the south end of the Isle of Skye. The house, and our holiday-let cabin, Skye Coorie, sit on the seashore. It's a fantastic, quiet, wee place only 3 miles from Broadford with its shops, restaurants and pubs.
I was born in central Scotland and we moved to the Highlands when I was six. So I grew up embracing the Highland way of life: calm, open, warm and welcoming, but with a hardy, hard working and sometimes fiery side too, both in its places and its people.
As a young woman I worked in hotels and loved meeting folks, but it's a hard life as you get older and want to settle down. I moved away to go to University and ended up being away from 'home' for 15 years. I'm a museum professional and had the pleasure of working in some great museums in the UK, Qatar and Kuwait. A change in health meant my husband and I made the decision to return to the UK, to assess what was important – for me it's being a mum, being outside and meeting interesting folks, then endlessly talking about how brilliant Scotland and the Highlands and Islands are.
Our move to Skye – Breakish, near Broadford
I've always loved Skye, dragging family and friends to see it since I was a teen. I managed to talk my parents into looking Skyeward when they retired. They've been here for well over 20 years now.  It was a no-brainer where we were going when I got sick. Pete got a job in the local supermarket, our daughter enrolled in school and we bought the house. Eliza is an only child, yet she's not completely alone, there's Maisie the crazy spaniel and the two killer cats (if it flies or squeaks it's toast). There's also The Girls, our four brown hens, who provide endless entertainment, and eggs, for the family and our guests.
A new venture – Skye Coorie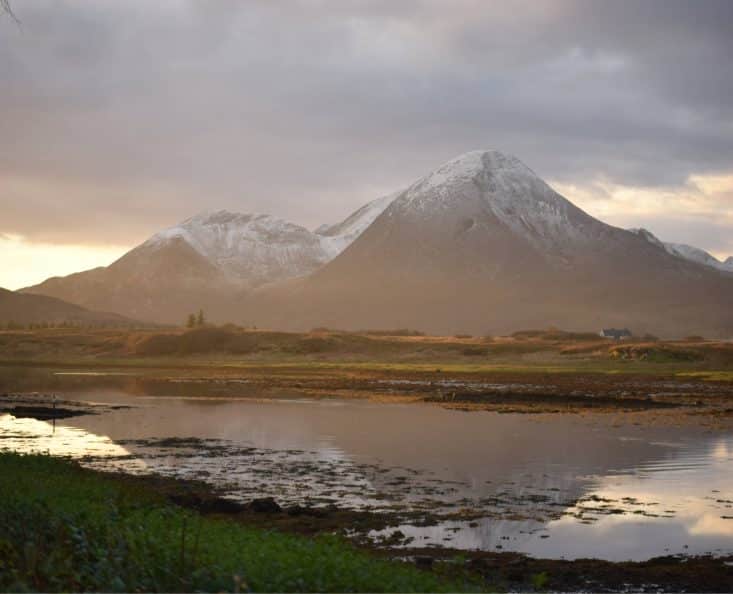 We knew I'd never work at the same level I had before, so decided to rekindle our love of the tourist sector and start a wee self-catering business. We bought a pod but unfortunately, the company was a sham so we lost the money and had no pod to boot. Eventually, we gathered money together to buy a cabin.
We've only been open five months but we are delighted, as are our guests. Skye Coorie is, in our humble opinion, beautiful and the location is breathtaking, even when it's a howling gale and horizontal rain. The cabin with its wee sitting room looks out over the sea and the mountains. The estuary is tidal so when the mud flats are exposed a wealth of waders, seabirds and wildlife can be seen. Skye Coorie has a well-equipped kitchen and a comfy double bedroom with ensuite. Perfect for a couple to come and use when exploring everything Skye and Lochalsh has to offer.
We have an Instagram account and a Facebook page, where we share images and information relating to the cabin. We also post things of interest in the local area like the wildlife – the infamous killer whales John Coe and Aquarius are often seen off the Sleat shores or in the Inner Sound. I also post aurora alerts and reminders of meteor events, for example. So check them out if you like!
Favourite beach near Broadford, Skye
This is an easy one, we live on its shore – our favourite beach is Ashaig beach. The estuary that the cabin and our home sit on opens out to the sandy shores of this beach. It's a very beautiful beach, not well known and so often there is hardly a soul on it. There are copious rocks for sitting on, to watch the waves, otters or the seals that bask and breed in the inlet. It opens out into the Inner Sound of Raasay. We spend hours on this beach, often walking from the garden a short 20-minute stroll.
Things to do near Broadford – Best walk on Skye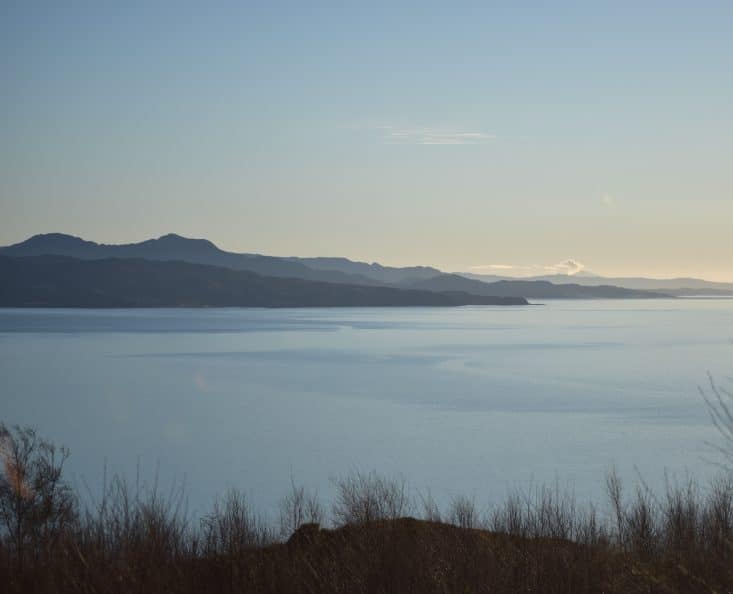 This is more tricky as I love walking, but my illness means I can't walk far, or go up the hills anymore. I used to be in a hillwalking club and have 'done' the West Highland Way. So, we have no experience of the hills here on Skye, but… recently discovered the Forestry Commission walks around Skye and Lochalsh, notably the Leitir Fura route in the Sleat Peninsula. Leitir Fura is a 5-mile moderate walk to the ruined township of Leitir Fura and is incredible with spectacular coastal views. There are two paths – an easy lower one and a drovers steeper route. There is excellent signage and a car park too! 

Though having said that we love the fantastic walk to Point of Sleat too. Again it's a moderate 5-mile round trip and at the end you come to a gorgeous white sandy horseshoe cove lapped by the turquoise sea. But then there's Balmacara Woodland Walks and Oh The Plock, Kyle's Community Parkland. Oh heck, I can't decide!!
Most special time of year on Skye
Every day. I sincerely mean that too! Skye is wonderful in spring. It comes out of its winter slumber in an array of rainbows and crocus, and without too many midgies. Summer is good everywhere in the world, but here it means you can have almost endless days, sit out by the fire pit 'till 2am sampling some local beer or gin. Autumn heralds amazing colour in the hills and skies, bringing sunsets you thought could never exist. And winter brings long dark nights for looking up into the darkest skies, to see the milky way, infinite stars and if you are very lucky, the aurora.
The one thing every tourist should do on Skye
Well, apart from staying with us obviously, I'd say be adventurous. Don't just think Skye is The Old Man of Storr or the Fairy Pools, because it's much, much more. There are pools in Torrin and you can wild swim from the shore in Ashaig. Elgol is my favourite place on Skye apart from home, with its fossil beach and incredible geology, tea room and wee shop. Go and enjoy Isle Ornsay and the Sleat Peninsula, visit Broadford's shingle beach by the old pier and spot the fossils in the huge rocks. Do a spot of crab fishin', if you like, over the pier and see what you catch! Or, just find a hill and sit, watch the colours change with every new breath, feel the calmness and the stillness. You might just spot deer, eagles or otters.
Your best wildlife encounter
That is so simple to answer –  We have a resident otter family that lives out front of us, so we see it very often. So often that Eliza is very nonplussed about it, in that way only 10 year olds who think they have seen it all can be.  But, we have also had a stoat in the study and a wee bat flying in the bedroom, so when we say we are rural, we are fairly rural. Do sheep count as wildlife? The common grazing crofters' sheep often come into the garden. I love them and keep asking Pete if I can have a pet one, or a wee goat. So far he's refused, but there's still time!?
Things to do near Broadford, Skye – Favourite road or drive
The road from Broadford to Elgol might be less than 20 miles, but it's majestic. A single track road that sweeps over hills, by lochans and skirts Bla Bheinn and part of the Cuillins. When you get to Elgol, go along the beach and explore.
Even better is to go on one of the MacKinnon's The Misty Isle Boat Trips. You won't regret it, honest – Sandy is an excellent skipper and the team are so knowledgeable – the trip on the boat up Loch Coruisk is epic. Words can't actually do justice to the scenery!
Most loved view
The view from my garden, and Skye Coorie's sitting room windows.  Looking out over the sound, then if I turn my head left, I see the mighty Beinn na Caillich with its cairn on top for Saucy Mary.  Turn my head right and I'm looking toward the Applecross hills on the mainland. I will never, ever, tire of these views.
Favourite place to eat and drink in the Broadford area
It's a commonly known fact that I like gin and I like ale. So, I'm very lucky to have the Misty Bottle only 5 minutes from the house and cabin. Selling  Skye micro-brewed beers and local gin, what's  not to love? I especially love Skye Black – a bit like a Guinness but better!
I also enjoy cakes and shellfish – so again I'm very lucky to live in Skye and Lochalsh. The Claymore Restaurant in Broadford is excellent. But there are many great places to eat. In Lochalsh, the Plockton Shores and Plockton Inn are delicious. Ashaig Quiet Campsite's Lean to Cafe is awesome for speciality beverages and yummy treats.
Holiday Scottish Highlands & Islands says…
Thanks a lot, Lori.for sharing some great things to do in Broadford and Skye. When you hear so much about Skye being so busy with tourists, it's good to know that if you make the effort you can find places that aren't overrun with people. I think you'll definitely have inspired people to visit Scotland at different times of year too. It's always good to meet another real ale drinker. My boyfriend likes Skye Black too but I prefer Skye Gold.
Find out more about Skye Coorie, near Broadford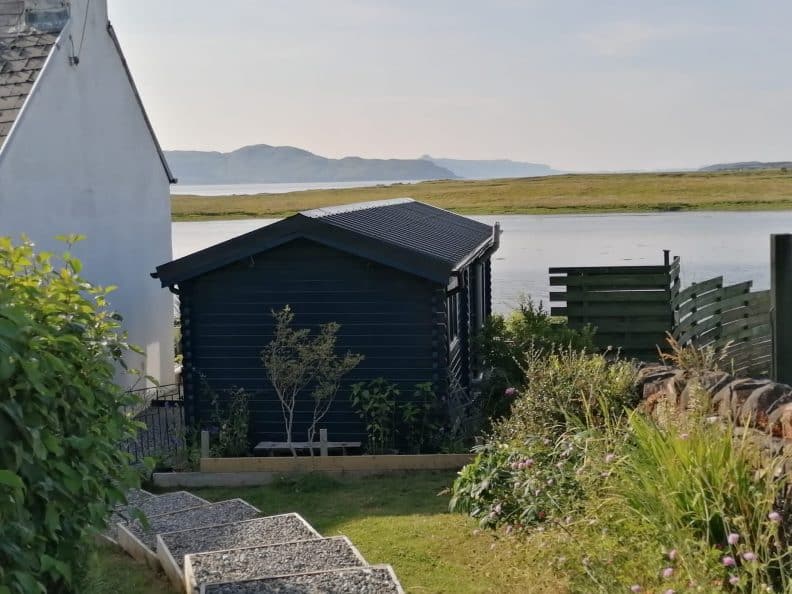 We have a Facebook and Instagram page for Skye Coorie.
Want more local tips for things to do on Skye?
We have lots more ideas for things to do on Skye:
Where will you stay?