Some incredible sightings have been logged on Whale Track over the last year. Highlights have included a super pod of common dolphins seen by Nature Scotland during an aerial whale-watch, sightings of John Coe, the most famous and distinct killer whale of the threatened West Coast Community group, and a humpback whale seen by kayakers near Oban.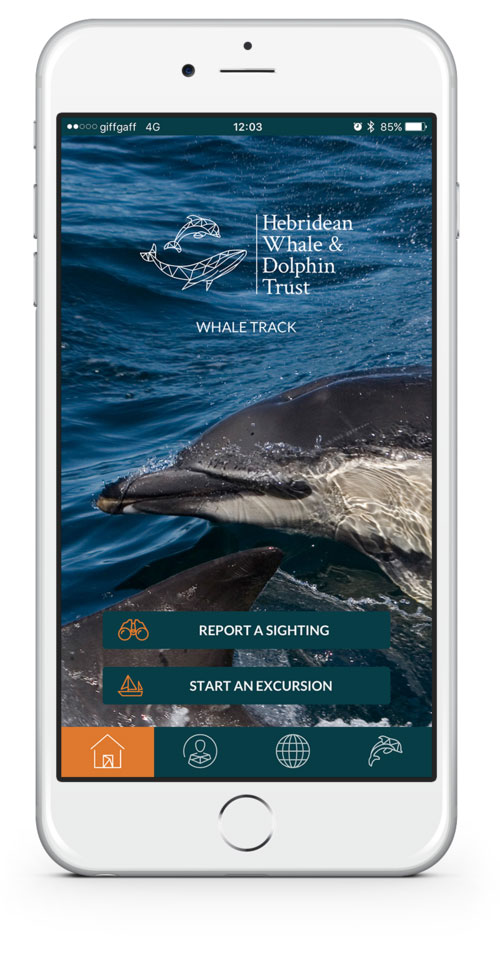 What is the Whale Track app?
Whale Track is a project created by the Hebridean Whale and Dolphin Trust (HWDT) based in Tobermory on the Isle of Mull. The Whale Track app allows anyone to quickly and easily record sightings of marine mammals in the Hebrides.
The app is free to download (Google Play, App Store) and uses GPS to accurately track excursions at sea and record locations of sightings. The app works without phone signal or WiFi, meaning sightings can be recorded even in the most remote areas.
What can you do with the Whale Track app?
Report a sighting – use the Whale Track app or report your sighting on the HWDT website.
Sightings Map – Explore our interactive sightings map to find out where the latest sightings are.
Species ID – Learn about our fascinating species of whales, dolphins and porpoise.
Don't have a smartphone?
If you don't have a smartphone, you can still access information and report your sightings of whales and dolphins on the HWDT website.
HWDT launched Whale Track a year ago and the community sightings app and website, is going from strength to strength, creating a growing community of citizen scientists monitoring whales and dolphins on the west coast of Scotland.
The new infrastructure has helped almost double the rate sightings are reported to HWDT and Whale Track now has a staggering 651 users, who have recorded over 3,550 sightings and 24,055 animals. The sightings reported are helping to track the movements of coastal species like bottlenose dolphins and unravelling the mysteries of more elusive species like humpback whales and killer whales. The project was made possible thanks to a generous grant of £79,300 from the Heritage Lottery Fund.
Find out more
Visit the Whale Track web pages.
You may also be interested in…