Barbara and Arra live in Lochaber in the west Highlands of Scotland where they run Stay Glencoe, a self-catering apartment for two. They share their local tips for things to do in the Glencoe area and other parts of the Scottish Highlands.
About us
We run a self-catering holiday let for couples, in a large apartment comprising the upper floor of our own home here in North Ballachulish, near Glencoe.
Hospitality is a major interest: we feel at bit like 'ambassadors' for Scotland and it's important that our guests feel welcome and have a good time. It's great when they enjoy the area and leave having had a positive experience. We enjoy our area as much as they do – we like getting out walking or cycling quite often, or just getting out for a wee drive if the weather's not great, then stop off somewhere for a bite of lunch or dinner.
We live together with our two cats in the downstairs part of the building. It's nice and quiet!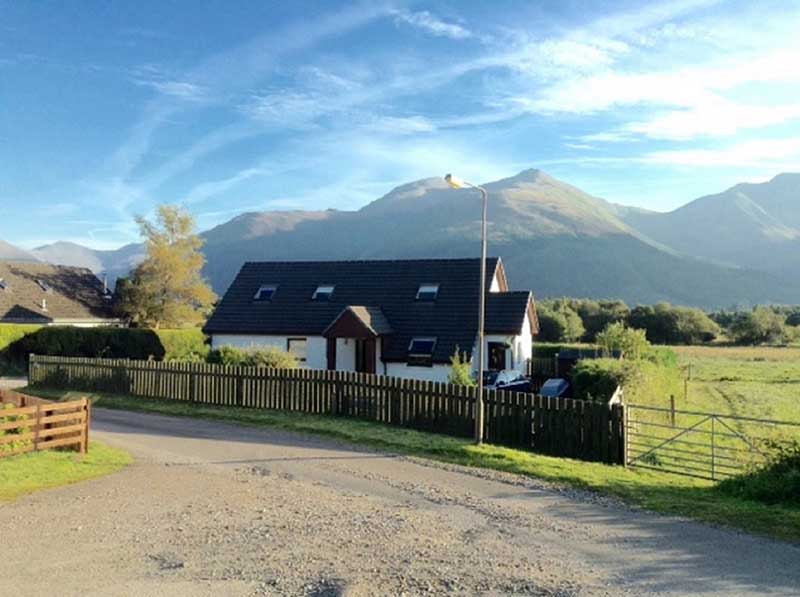 How long have you lived here?
We've been in the area for about 10 years although we've had a connection with Morvern for much longer than that. Arra moved from his native Islay to come here.
Favourite beach
Arisaig and Morar are great for beaches.
Best walk
It's almost impossible to have a favourite walk in this area – there are thousands of options! We walk with a group of ramblers sometimes, or with friends, and this could mean anything from an easy but lengthy forest walk along some hill tracks (especially the circular around Dragon's Tooth) to the 'rougher stuff' of more challenging hills like the many Munros in this area.
Most special time of year
Spring. Everything feels fresh and new, we often get great weather and it's just before the time when it starts to get really busy!
The one thing every tourist should do in Fort William and Lochaber
Neptune's Staircase at Banavie, Fort William (the start of the Caledonian Canal) is special, not only for its engineering and visual beauty but because you can combine a visit with either and easy stroll along the canal or a longer cycle ride deep into the Great Glen.
It's a mountain-biker's paradise here, so if you're that way inclined a visit is a must!
Your best wildlife encounter
Puffins on Lunga, one of the Treshnish Isles off the west coast of Mull. Take a Turus Mara tour out there from Ulva – a brilliant day out that also takes in Staffa and its famous, dramatic Fingal's Cave.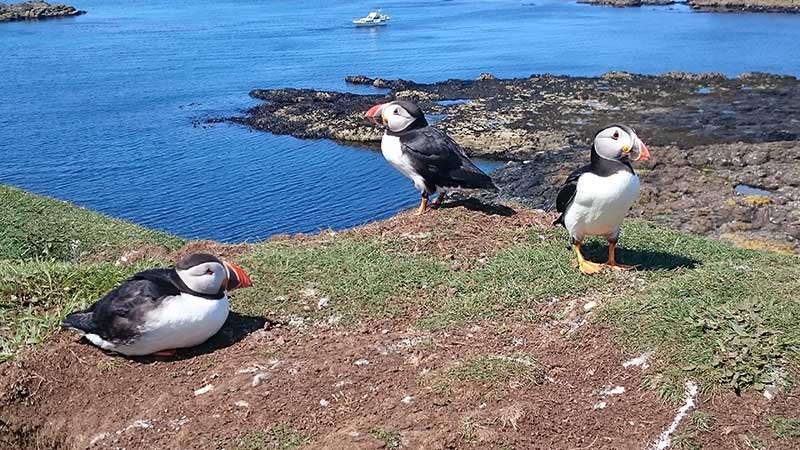 Favourite road or drive and why
NCN Route 78 (cycle track) is our favourite: traffic free, lengthy and very varied. You can have so many brilliant day-trips from here on your way down to Oban: lunch at Benderloch (Lora Café) or at the Creagan Inn and, to top it all, a wee pint at the newly re-opened The Old Inn at Appin.
Most loved view
Probably the view from our home and from the guests' holiday flat. The name of our house is Sealladh na Beinne which is Gaelic for 'view of the hills' and when you're here you'll understand why. We look directly out at the Beinn a' Bheithir group of mountains that includes 2 Munros: Sgorr Dhearg and Sgorr Dhonuill. We love our sunny views to the south.
Favourite place to eat and drink
We must start with our 'local' which is the Loch Leven Hotel: great wee pub, friendly staff and an excellent kitchen. We like the good range of craft beers they have, both bottled and on tap, but they are particularly hot on their gin in this place and have a huge range to try.
Other excellent places to eat are the Loch Leven Seafood Café (4 miles along the road to Kinlocheven) and The Laroch in Ballachulish itself.
Holiday Scottish Highlands & Islands says…
Thanks to Barbara and Arra for some great top tips on things to do in Glencoe and the Scottish Highlands. It's interesting to see that those puffins at Lunga are featured again after first being mentioned in Local tips: Isle of Ulva & Mull- Rebecca, Boathouse Cafe, Ulva. Everyone loves a puffin! They also include Port Appin which you can find out more about in Local tips: Things to do around Port Appin, Argyll with Charlotte & Jamie.
Find out more about Stay at Glencoe
Stay at Glencoe provides spacious & comfortable self-catering accommodation for two in a quiet corner near the bustling heart of Glencoe, Scotland.
Twitter: @StayGlencoe
Want more local tips?
Check out all articles in the What to see in Scotland: Local Tips series or some of our favourites: