The island of Grimsay in the Outer Hebrides is connected to North Uist and Benbecula by a road causeway. Hazel shares her things to do on North Uist and tells us a little about the community-owned business, Uist Wool.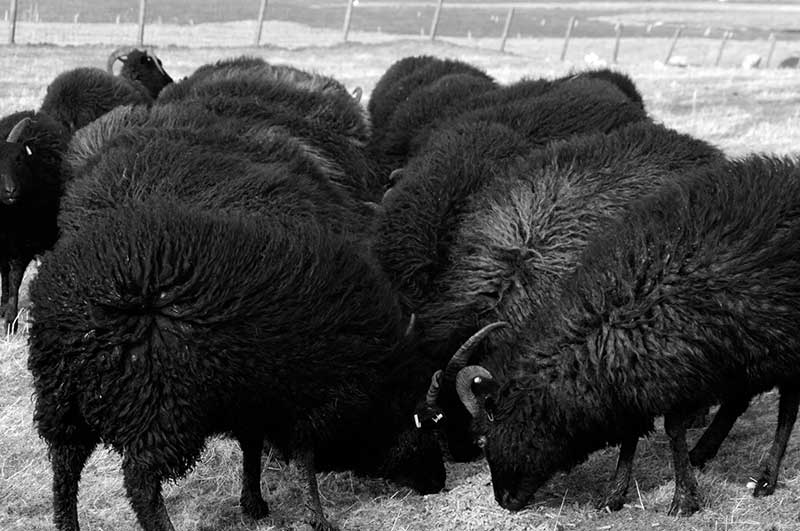 Interests
Wool, wool, wool, sheep, wool, knitting, wool, weaving, oh, and wool.
About Uist Wool on North Uist
Uist Wool is a community-owned spinning mill, producing premium quality undyed knitting and weaving yarn from heritage machinery. There are 5 staff members – Neil, Madde, Fiona, Ellis and Hazel plus two "Mill hounds"; Bess and Marple (they're experts at wool-grading).
The mill was built in 2013, and has been trading since 2016. The mill was built from scratch, machinery was sourced from elsewhere in the UK because there was nothing like this here in living memory. Staff gained knowledge from a uniquely developed course of visiting tutors and field-trips and included everything from machine engineering to knitwear design and business-planning.
The team is a mix of people that grew up here and those that moved here. I think those that moved from somewhere else felt that the Outer Hebrides offered opportunities for a different lifestyle.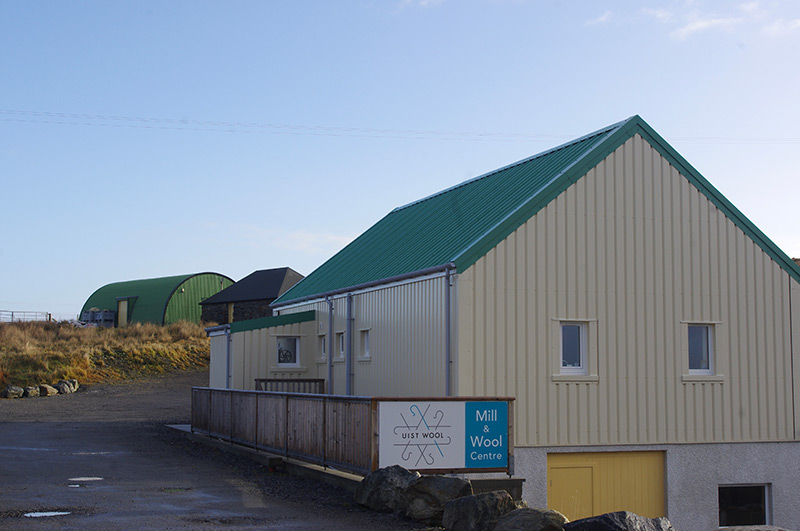 Favourite beach
Grimsay is mostly moorland and the eastern coastline with no real sandy beache. We love the rocky seaweed coast just as much as the dreamy vast stretches of sand found on one of our nearby beaches, such as Baleshare on North Uist or Airport beach on Benbecula.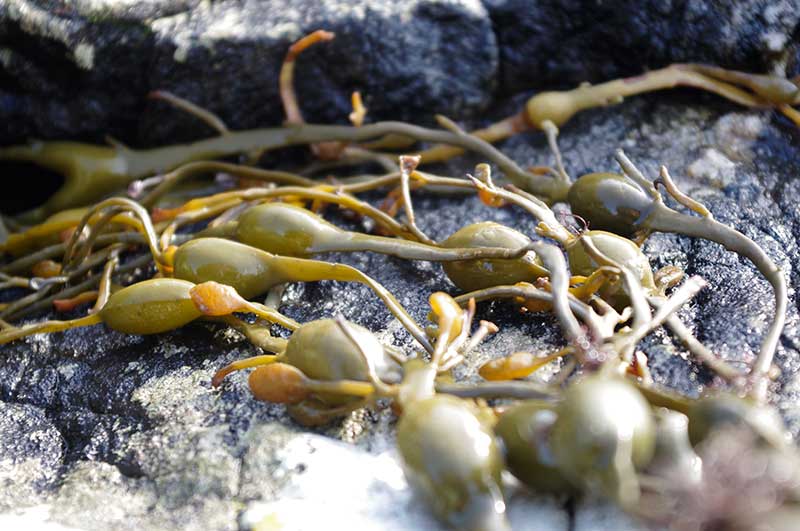 Best walk
Bess and Marple would be the best ones to ask about this. They particularly enjoy playing in the neighbouring moorland and fields where they can bounce in the moss, hunt voles in the heather, track otter spraints and swim in the lochs. But they're also partial to a run on the beach or a sprint up the Ruabhal (Rueval) track too.Ruabhal is the highest point on Benbecula and offers a fantastic 360 degree view of the islands.
Most special time of year on North Uist
Autumn and Winter- more knitting hours! Also midsummer for the ability to completely lose track of what time it is. Also July for the machair flowers, and the agricultural shows. August for the heather. Just all of it?
The one thing every tourist should do on North Uist
Visit the Uist Wool Mill & Wool Centre! The shop is open all year, and we run tours on Fridays through the Summer. You can also contact us if you want to see the Mill the rest of the year.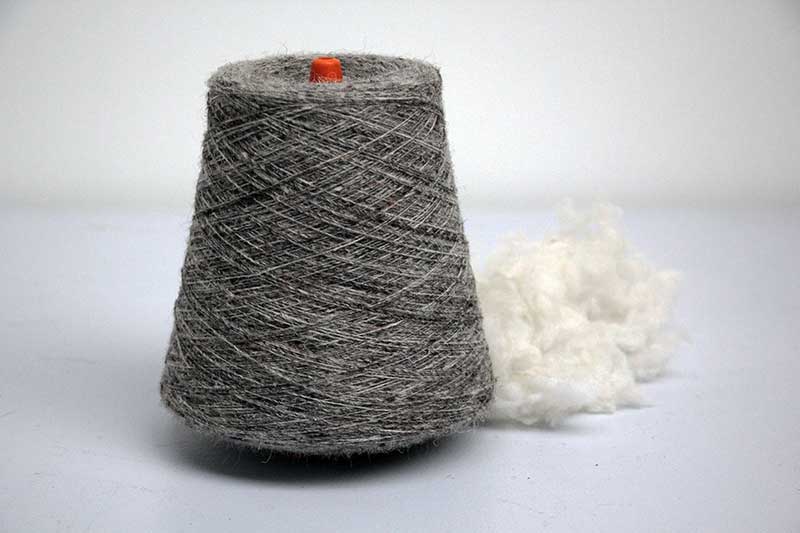 Your best wildlife encounter
So many incredible ones that can be taken for granted – otters on the shore in front of the mill, stags in the neighbouring croft at midday (the cows weren't happy), owls and hen harriers constantly overhead, plus eagles from time to time. Seals from the office window, ducklings in the bay, the list goes on!
Favourite road or drive
The drive around Grimsay is very rewarding – twisty turny bends, amazing sea views and silhouettes of Skye, lochs, wildlife, livestock, seafood, 2 fantastic cafés, a fascinating traditional boatshed, and a brilliant spinning mill.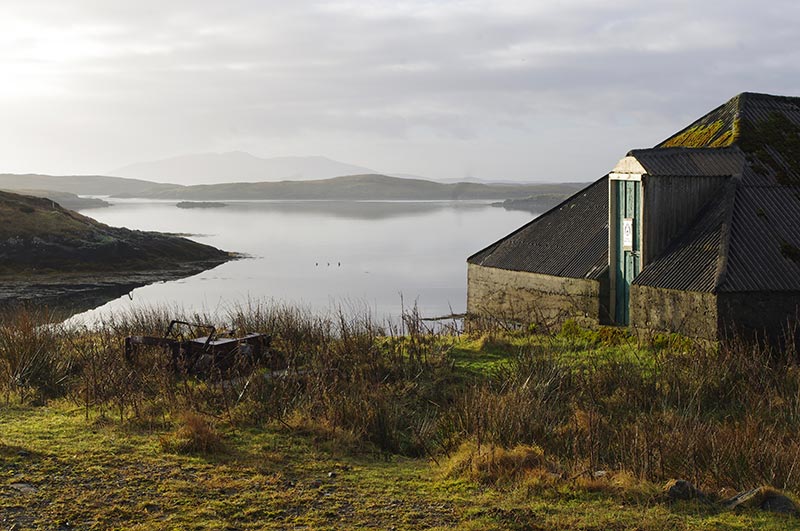 Most loved view
All of them. Crossing the causeway can be perilous because it's easy to get distracted – take it in turns to drive and look out!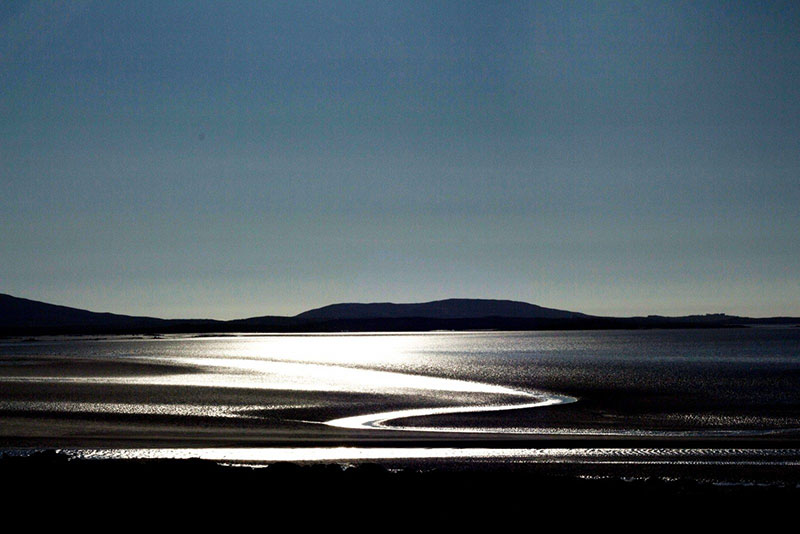 Things to do on North Uist – Favourite place to eat and drink
The 2 cafés on Grimsay are both great in different ways – the NaMara seafood at Kallin Harbour has great fresh shellfish and seafood ideal for a quick fishy snack, and the Ceann na h-Airigh Community Centre hosts Cidsin in a very cosy setting with a fire, ideal for a good coffee and cake or fresh salads and soups from the community greenhouse out the back.
Holiday Scottish Highlands & Islands says…
Grimsay near North Uist isn't one of the Outer Hebrides islands that you hear about as much as some of the bigger ones so it's great that Hazel has shared these tips for things to do on North Uist and Grimsay. Uist Wool sounds like a great community enterprise and worth a visit.
Find out more about Uist Wool
Website: uistwool.com
Facebook: facebook.com/UistWool
Twitter: @UistWool
Photos: © Uist Wool
Enjoyed this post?
Please share it with your friends using the social media sharing buttons on this page.