Andi Probert works at The Cairngorm Reindeer Centre in the Cairngorms near Aviemore. Andi shares her top tips for things to do in Aviemore, Scotland.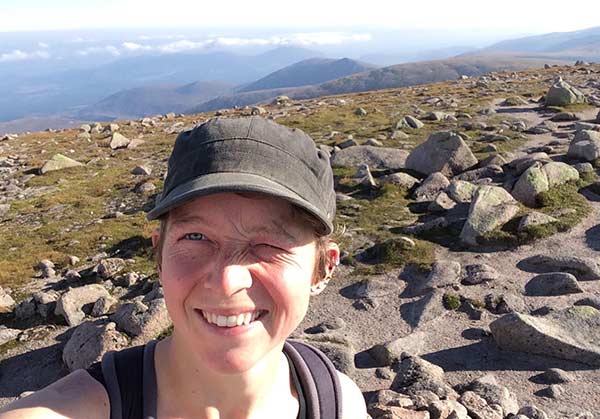 About me
I'm a reindeer herder with the UK's only herd of reindeer free-ranging in their natural habitat, on the Cairngorm mountains. I've been lucky enough to work with these awesome animals all year round for the past six years.  I live near Aviemore with my partner and two badly behaved but incredibly cute cats, Snicket and Squirrel. In my spare time I love exploring the countryside, drawing, and am learning to garden!
How long have you lived here?
I came up from Warwickshire to work with the reindeer for a summer back in 2010, and never left! Now I can't imagine living anywhere other than this amazing part of the world. The scenery is fantastic, the people are far friendlier, and there is so much space to get out and find your own little bit of wilderness.
Favourite beach
I love the beautiful beach at Loch Morlich – our local. However it gets a little too busy for me in summer – on a hot day it's where everyone in the area goes – so I much prefer a walk along there in winter, with broken ice on the loch lapping at the shore, and the sand crunching beneath your feet. On a still day the reflection of the snow-covered Cairngorms is unbelievable.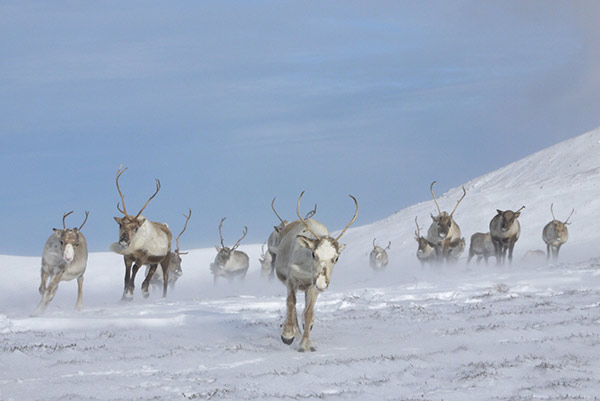 Best walk
Not a walk for every day, but nothing beats heading out to Braeriach – passing through the Chalamain gap, across the Lairig Ghru then the long hard pull up onto the plateau. Even on a good weather day you'll meet very few people, the views are phenomenal and the landscape is relatively untouched by humans, with the exception of occasional cairns. It makes me feel on top of the world.
Most special time of year where you live
A hard question to answer! The seasons here are so pronounced compared to further south, and all of them have their perks. The mountains look their most impressive in winter, and walking out to feed the free-ranging reindeer in extreme weather at that time of the year is one of my favourite experiences – I'm always taken aback by the ferocity of the elements, and how well the reindeer are adapted for it. The wind can be almost too strong to stand, and visibility down to a couple of metres, with 3-4ft of snow to plough through, and the reindeer barely seem to notice! Then the long days in summer, with not a breath of wind and the sky blue and cloudless – if I'm up on a mountain on a day like that, it's hard to think of anything better.
Things to do in Aviemore – The one thing that every tourist should do
Come and meet the reindeer! They're such special creatures, and even the toughest of guys who've been dragged along by their girlfriend (not to stereotype here!) get won over by them by the end of a hill trip. Walking amongst and feeding 30-40 reindeer, who are choosing freely to be with you, on a gorgeous mountainside (even if its raining) is something people tell us they remember for years. Other than that, go on the tour at the Cairngorm Brewery in Aviemore – in exchange for only a few shiny gold coins they'll tell you lots of history and facts, and give you more samples than you can finish.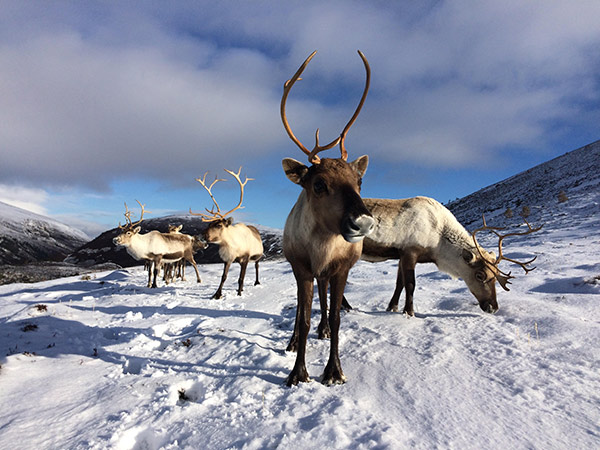 Your best wildlife encounter
Watching local osprey circling round over the reindeer hill enclosure at calving time. They were close enough that we could identify them without binoculars, and spent a good twenty minutes soaring around calling to each other. They're very special birds, and we're so lucky to have quite a few nest in the area.
Most loved view and why
Looking across Loch Morlich to the Cairngorms. Whatever the weather, it gives you a real sense of the mood of the weather, sometimes dark, stormy and wild, sometimes still and majestic. It's also lovely to see the range from high mountain peak all the way down over the forest to the loch and finally the beach. And you don't even need to leave the road to see this!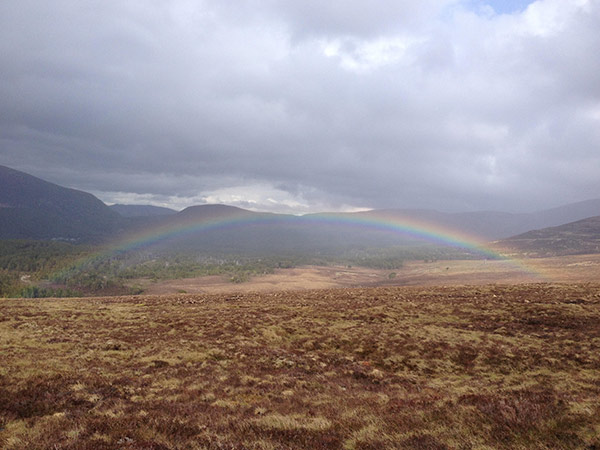 Favourite place to eat and drink
For lunch, Mountain Cafe in Aviemore is a favourite with everyone I know who lives round here. It's unfortunately so popular that there is usually a queue, but I promise the food is worth the wait. If you don't have time, they also do takeaway cake to die for – if you can't choose go for the chocolate beetroot cake. The Rowan Tree near Alvie never fails to disappoint for dinner – every single meal I've eaten there has been a pleasure from start to finish. Any form of pork is always a winner for me!
Holiday Scottish Highlands & Islands says…
Aviemore and the Cairngorms isn't really an area we've explored properly so thanks to Andi for sharing these things to do in Aviemore and the local area. We love the pictures of the reindeer in the snow too!
Find out more about The Cairngorm Reindeer Centre
www.cairngormreindeer.co.uk
www.cairngormreindeer.wordpress.com
Plan a trip to Aviemore and the Cairngorms
Ordnance Survey maps with free mobile download – various options available for the Kincraig, Aviemore and Cairngorms from Ordnance Survey and Amazon
Holiday accommodation in Aviemore and the Cairngorms
See our directory for more holiday accommodation in the Scottish Highlands and Islands.
More local tips for things to do in Scottish Highlands & Islands
See all our local tips for what to see in Scotland's Highlands & Islands