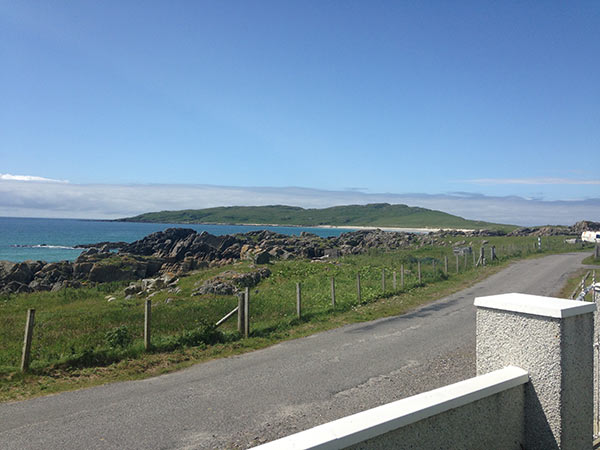 Interests
Music, Local History, Sports
How long have you lived here?
I've lived in Glasgow since 2011, after leaving the Inner Hebridean island of Tiree to study on the BA (Hons) Scottish Music Course at the Royal Conservatoire of Scotland. Although I live in Glasgow I'll always refer to Tiree as home and try my best to get home as often as possible.
Favourite beach
Travee, Isle of Tiree. This beach is literally a few minutes walk from my family home in Tiree and is one of the nicest beaches on the island. I have many happy memories as a youngster walking along this beach and playing with friends at the burn which runs from Loch a' Phuill to the sea.
Best walk
West Hynish across Travee to St Patrick's Temple, Isle of Tiree
Teampall Phàraig (St Patrick's Temple) is located on the southern edge of Kenevara, a headland at the end of Travee. To get there from my house in West Hynish involved walking the whole of Travee and then over the machair at Kenevara until you reached the remains of St Patrick's Temple – a medieval building that was dedicated to St Patrick by St Comgall when he travelled to Tiree with St Columba. There is a well very near to the temple which was known locally as the wishing well. We used to go on family walks to the well and throw coins into it and make a wish. I'm still holding out on my wish to become a millionaire!!
Most special time of year
My favourite time of year is without a doubt the summer. I usually spend the majority of the winter in Glasgow and then tour the West Coast with the band from the end of June until the start of September. This is a great time to visit many of the islands, with great weather and so many events taking place.
The one thing that you recommend every tourist should do when visiting your area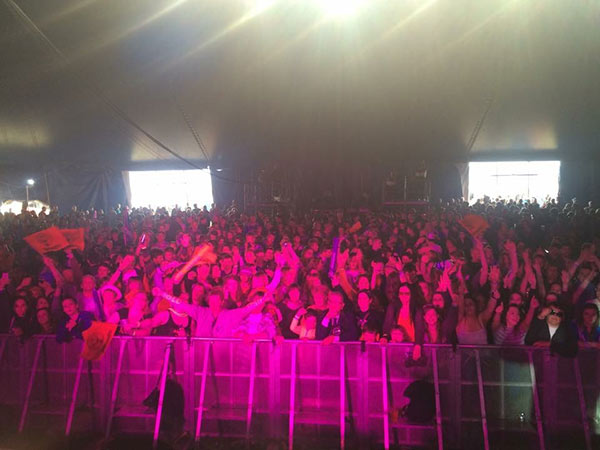 One highlight in particular is the Tiree Music Festival, which takes place in July. It's a brilliant weekend of music, drams and craic plus it takes place at home, which makes it even better for me!
Favourite road or drive
Although I don't drive, my favourite road for views is the road through Harris. Coming from Leverburgh up past Traigh an Taoibh Tuath then up past Seilebost with great views across Luskentyre Beach before arriving in Tarbert to be greeted by the brilliant new distillery in the village. It must be one of the nicest drives in the country – stunning!
Most loved view
The view from the front garden of our family home in West Hynish is absolutely fantastic. Looking out to the southwest, the lighthouse Skerryvore is visible and to the northwest is Kenevara. In front of the house, there is also a lovely rocky shore. There is a rocky island called Eilean na h-Aona-Bhàirich just in front of our house which can be accessed at certain times of the year when the tide is extremely low. My father usually puts a flag on it when he can access it. Also just a small distance away is Am Port Mòr, where we launch our boat. My favourite part of the island!
Favourite place to eat and drink
While touring the islands, eating out and drinking are things we do very often (probably too often!). One of my favourite places to eat is Macgochans in Tobermory. The food is brilliant, in particular the steaks which are sourced locally from the Glengorm Estate.
It would be very hard to choose a favourite pub of mine throughout the Highlands and Islands as the list is pretty substantial! However, one of my favourites has to be the Castlebay Bar in Barra. We often play in the bar and the gigs are always brilliant! We are looked after very well and have many good friends on the island therefore the craic is always tremendous!
Your best wildlife encounter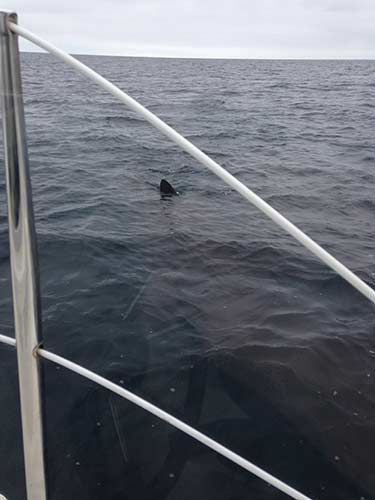 We own a boat in Tiree and my favourite thing about getting home in the summer is going out fishing on it. Tiree is amazing for wildlife and when you're out at sea you come face to face with many different animals. Basking sharks are everywhere in the summer and on flat calm days you literally come within touching distance of these massive creatures. In fact, on one occasion we came across a basking shark that was around twice the size of our boat!
Read: 11 things to take wildlife watching – the gear you need
Holiday Scottish Highlands & Islands says…
Ian, we're so jealous of the view from your home in Tiree. It's easy to see why you love to get back there. Tiree is supposed to be the sunniest place in the UK and the windiest. Thanks for sharing your tips.
Find out more about Trail West
Check out the Trail West website.
Hailing from the 'wild wild' Western Isles of Scotland, Trail West are a young band causing a storm on the Scottish music scene. Formed on the Isle of Tiree in 2008 by founding members Andrew Findlater (Drums/ Vocals) and BBC Radio Scotland Young Traditional Musician of the Year Finalist Ian Smith (Accordion/ Vocals), the band has since added further Hebridean fire power with multi-instrumentalist and Young Traditional Musician of the Year Semi-Finalist Seonaidh MacIntyre (Whistles/ Bagpipes/ Tromb/ Vocals) from South Uist and fellow Tirisdeach Alain Campbell (Guitar/ Bagpipes/ Vocals) to create a blistering sound that presents an exciting twist on the traditional 'west coast' ceilidh band style.
Plan a trip to the Isle of Tiree and the Hebrides
Want more local tips?