Julie Williamson is a print textile designer who has spent most of her life living in Shetland. She shares her local tips for Shetland holidays and what to see and do.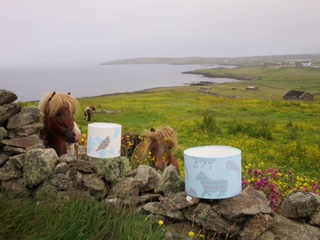 About me
I am a print textile designer and run my own small business from my home Whalsay, Shetland Isles. I am inspired by my home with its rich heritage and local scenery, depicting fishing and
crofting scenes within my work each with a story or memory to be shared. I live with my partner and our newborn baby girl plus 1 dog, 2 cats, 2 geckos and outside there's my 2 horses, 4 guinea pigs and my partner has a selection of hens and ducks.
Interests
Working with my Norwegian fjord horse and Shetland pony. Walking the dog. Travelling and we quite often visiting Edinburgh where my partner is from.
How long have you lived here?
I have lived here my whole life apart from the 2 years I spent in the borders at university in Galashiels.
Favourite beach
The brough beach which is a 5 minute walk away from where I grew up and still currently live (next door to my parents) I have a lot of childhood memories of spending time at the beach then walking home in our bare feet so we wouldn't make our shoes sandy. I now currently love taking the dog down to chase his ball and can't wait until my daughter is old enough to go and build sand castles.
On the mainland of Shetland Ninians beach is fantastic, and the Island Unst has lots of fantastic beaches as well.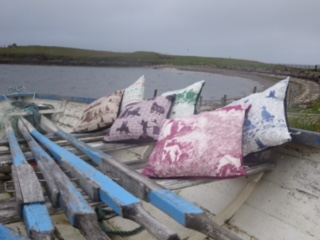 Best walk
Around the Houll loch a 1 mile walk around one of Whalsay lochs which is just a 5 minute walk away for me. In the summer you sometimes see people sailing their small model yachts and it is a favourite place for dog walkers. I also love to walk up Seater Hill as you can view the whole of Whalsay from there.
Most special time of year
I love near the end of summer when we start to get amazing sunsets which are so pretty.
The one thing that you recommend every tourist should do when visiting Shetland
If you are interested in playing golf then we have the most northerly golf course in Britain which is located at the north end of the island.
Your best wildlife encounter
When out walking around the beaches or shoreline seals often pop up to say "hello".
Read: 11 things to take wildlife watching – the gear you need
Favourite view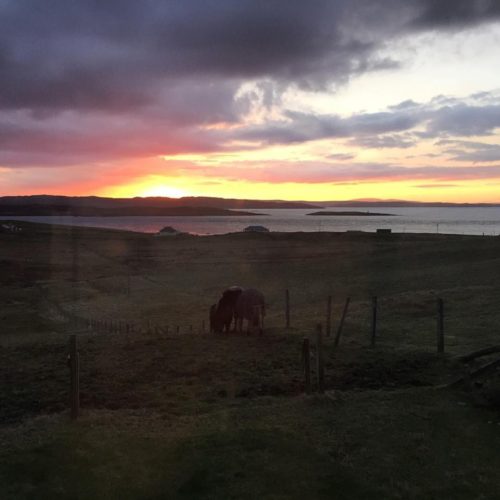 Out of my sitting room window watching the sunsets.
Favourite place to eat and drink
The Fort fish and chip cafe in Lerwick. I always get the smoked breaded fish supper and a pot of tea.
Holiday Scottish Highlands & Islands
Thanks Julie for taking time out of your maternity leave to be interviewed on your Shetland holidays tips. Your ponies look so cute and your designs are beautiful. I like the sound of the breaded fish supper too.
Find out more about Julie Williamson Designs
Plan a trip to Shetland
Want more local tips
Check out all articles in the Local Tips series.